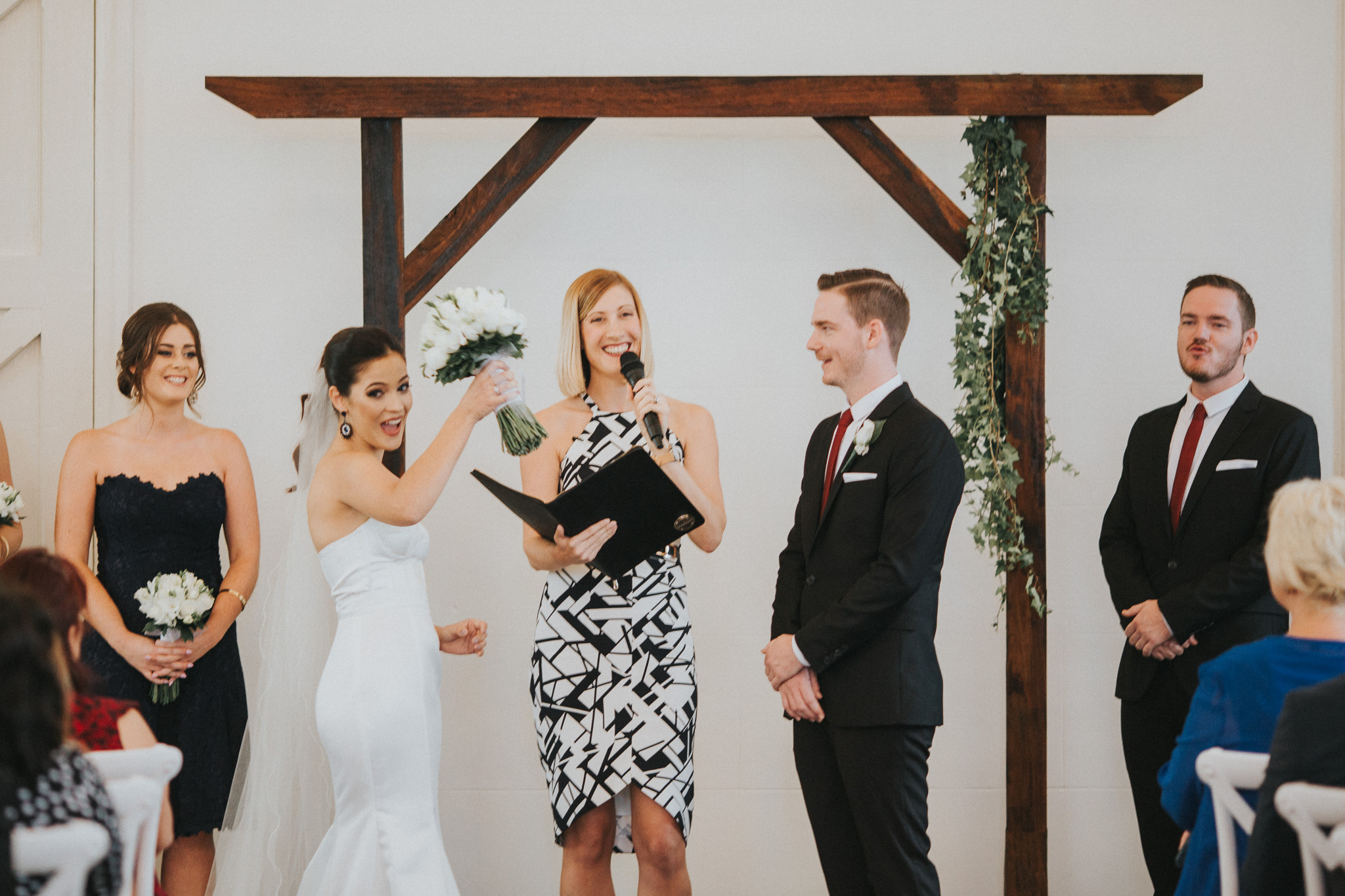 ANJ + DAN – married at High Church Brisbane
Carly, we cannot thank you enough for writing and conducting the most perfect ceremony for us.
In the beginning we had no idea that a ceremony could be so beautifully personal and mean so much to us and to our guests.
You absolutely exceeded our expectations and there is not a single thing we would change.
We have received many comments on how great the ceremony was and how it touched so many of our guests and got them feeling very emotional about family and love.
I most of all loved how everyone was made to feel involved (as they are in our lives!) – from the support of their "we do's" to the hilarity of Jen's reading and on to taking a moment to look into the crowd and appreciating the love and support we have from all who were there.
It was the perfect start to a perfect day.
Much love and thank you Anj & Dan
Photography Credit Cassie Sullivan and Jarrad Seng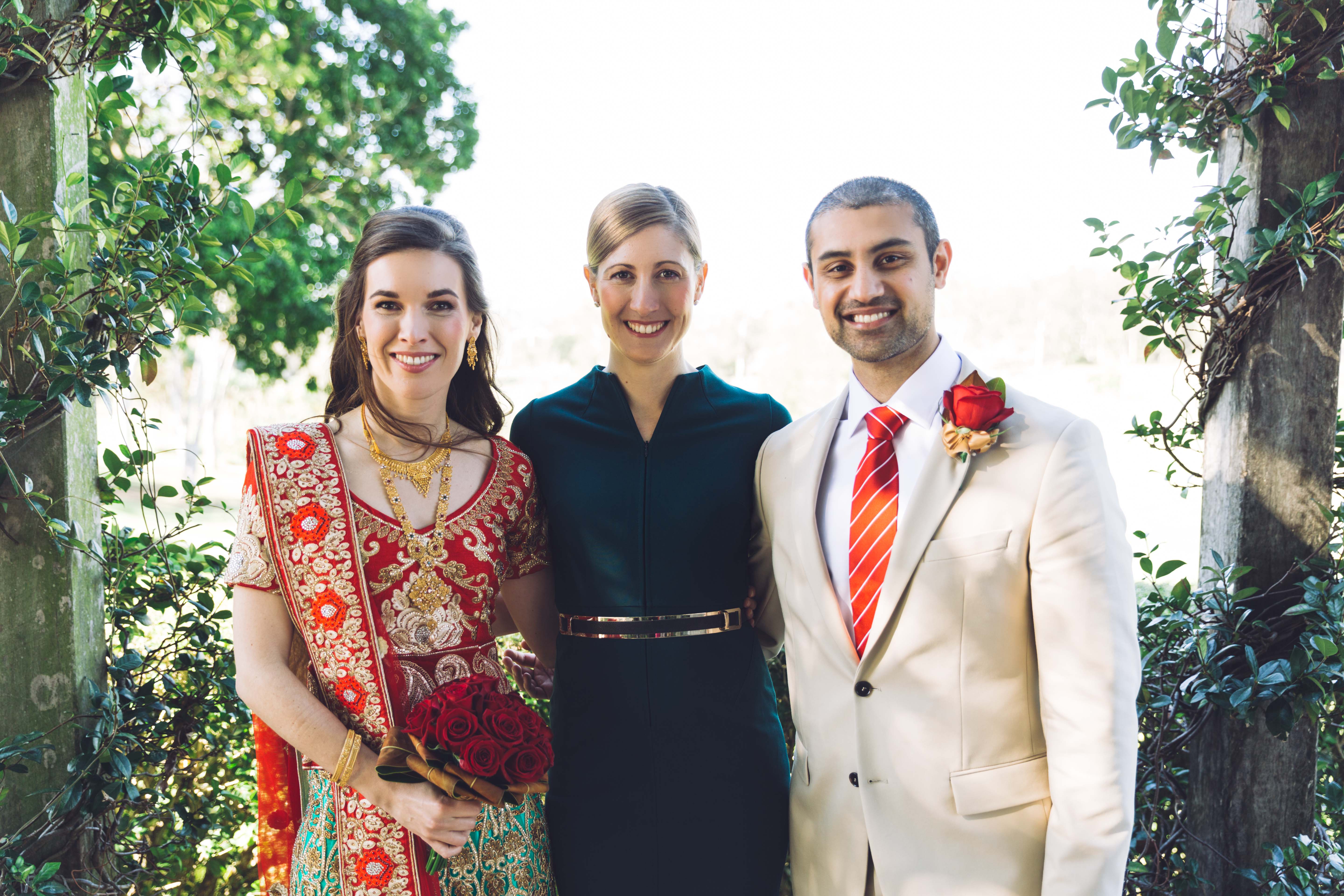 JOSEPHINE + MUSHFIQ – married at Hillstone St Lucia
My husband and I can't believe how lucky we were to have Carly as our marriage celebrant. Carly is highly organised and professional in her approach, helping us at every stage. We were able to step back and let her guide us through the process of planning a ceremony and preparing the paperwork.
Carly has a beautiful, warm and bright personality that is an absolute pleasure to work with! Our guests were all extremely impressed with her cheerful and confident delivery during our ceremony. She was also so incredibly considerate and thoughtful at every moment – helping our MC with the music when the volume was unexpectedly turned down and knowing exactly when to step to the side to let us take couple photographs at the altar. She even helped us individually with writing our vows. She is simply just wonderful!
I recommend Carly to any of our trusted friends and family looking for a dedicated and lovable celebrant for any official occasion.
Carly – you deserve the best! Thank you for all your help!
Photography Credit Mia Forrest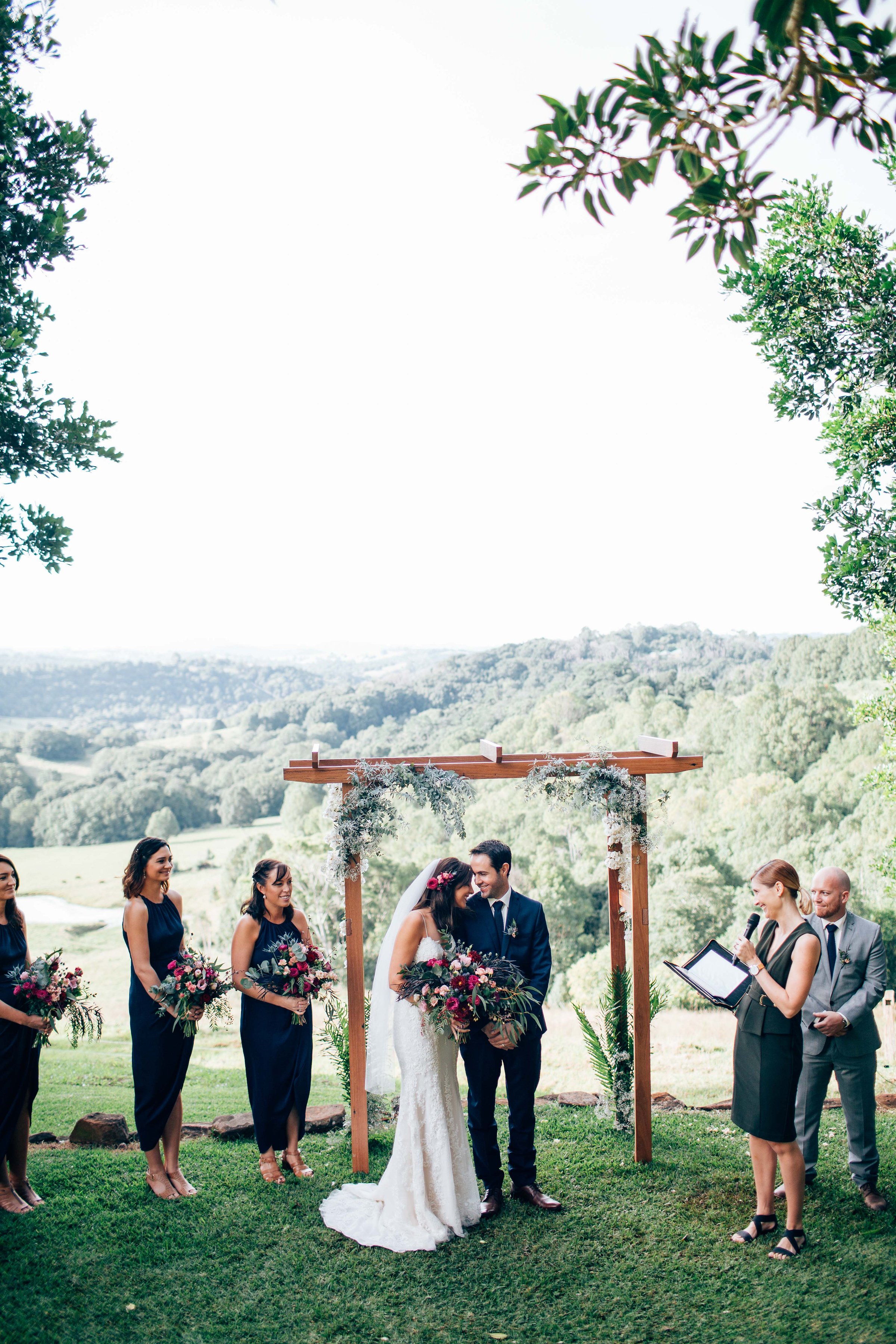 SARAH & PHILL – married at The Earth House in the Byron Bay Hinterland
We cannot describe how fortunate we were to have Carly with us on our journey. From the beginning — when we had our first meeting with Carly in her home — we instantly clicked. Her warm and caring personality was exactly what we wanted. Along with her support, she gave us the confidence to focus on our day without worry.
Carly is a very professional and well organized individual, who goes above and beyond to help guide you through everything. She respected and adapted to the way we wanted our ceremony to be, without judgement, and also lead us through all the paperwork – much to our gratitude!
It was an amazing experience that we will both treasure in our hearts forever and we wouldn't hesitate in recommending Carly – she is a fabulous celebrant with style.
Photography Credit Figtree Wedding Photography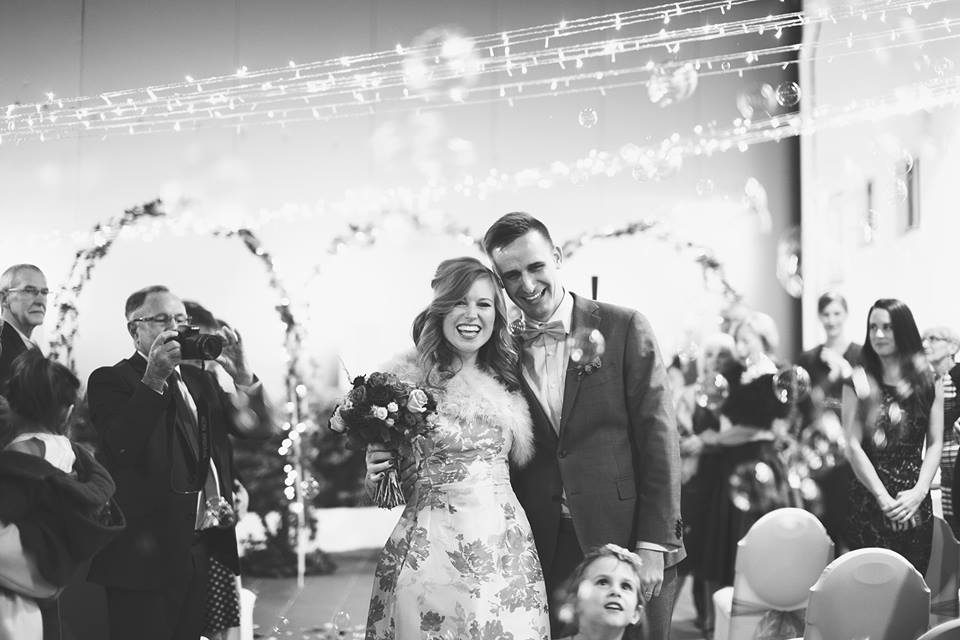 JANE + TIM married at A.N.F.E Italian Club Newstead
We highly recommend Carly to anyone looking for a professional celebrant who presents perfectly to an audience and makes the ceremony preparation easy and stress free.
Carly was able to provide a range of ideas for the ceremony format and style, but was equally happy to let us design the ceremony and add our input.
Carly ensures the ceremony is about the couple, and she delivers the ceremony in a very professional and polished style while simultaneously being warm and funny.
We received so many compliments on the ceremony from our guests and would recommend Carly to anyone looking to put together a meaningful, heartfelt ceremony with style!
Photography Credit Arie Photography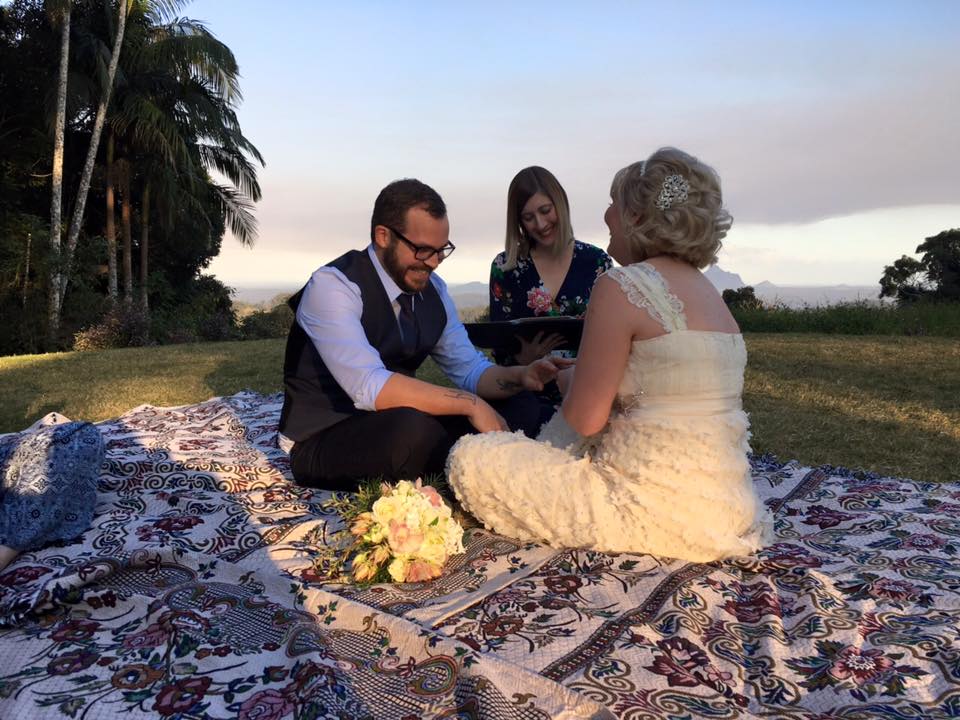 TOM + JENNY married in the Maleny Botanic Gardens
Carly, we can't thank you enough for officiating our elopement. Thank you for your patience with us arriving late and having nothing ready. For us the day couldn't have gone any better. We thank you for allowing us to do the elopement our way and making it completely enjoyable and a no stress day. Everyone loved your laid back and friendly personality which made the evening so much better.
We will be recommending you to everyone even if they're not getting married.
Photo taken by wedding guest
JASMINE + MAX married at the Toowong Rowing Club
Carly was our celebrant for our wedding in April.
I am so so happy we chose her for this very important task. She was so friendly & approachable, we felt like we could completely be ourselves around her.
When I was looking for a celebrant I really wanted someone around our age who knew how to add some modern touches to the ceremony & a uniqueness that everyone hadn't seen done a hundred times before. This is exactly what we got with Carly.
I received so many compliments about how lovely & personal our ceremony was & how it reflected our relationship.
I would highly recommend Carly if you're looking for a younger celebrant who is very in touch with what the bride & groom of today are after.
Photography Credit Natalie Elyse Photography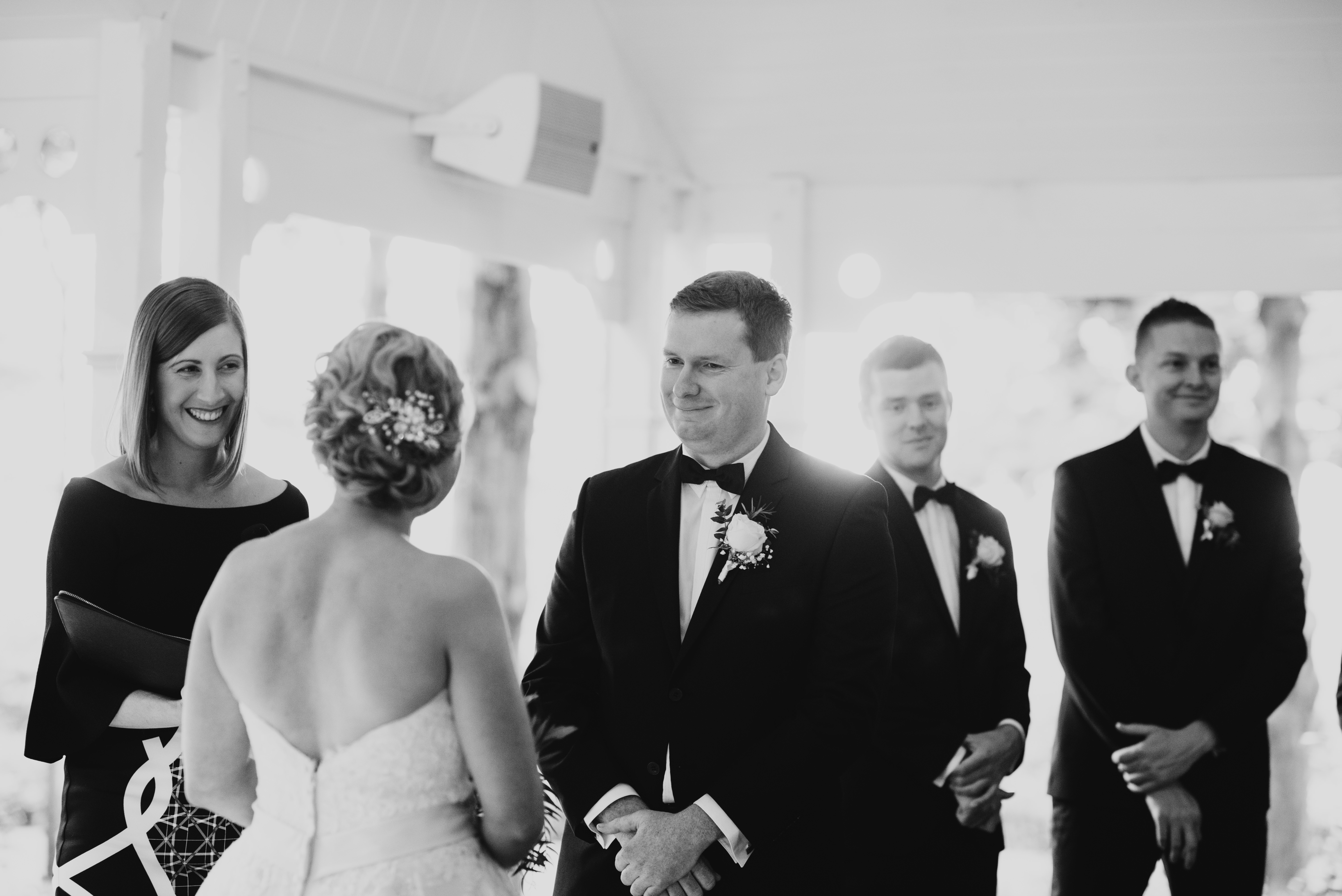 CASSIE + LUKE married at Gabbinbar Homestead
Carly was the most amazing celebrant. We couldn't have found anyone more perfect to have there on our big day.
Carly is very organised and thinks of everything, including all of the tiny details. Carly was very helpful and made the process from intention to marriage forms to our vows so easy.
Not only is Carly very professional when it comes to business, but she is also a lovely person and we really enjoyed getting to know her in the lead up to our wedding.
Photography Credit Leah Cruikshank Photography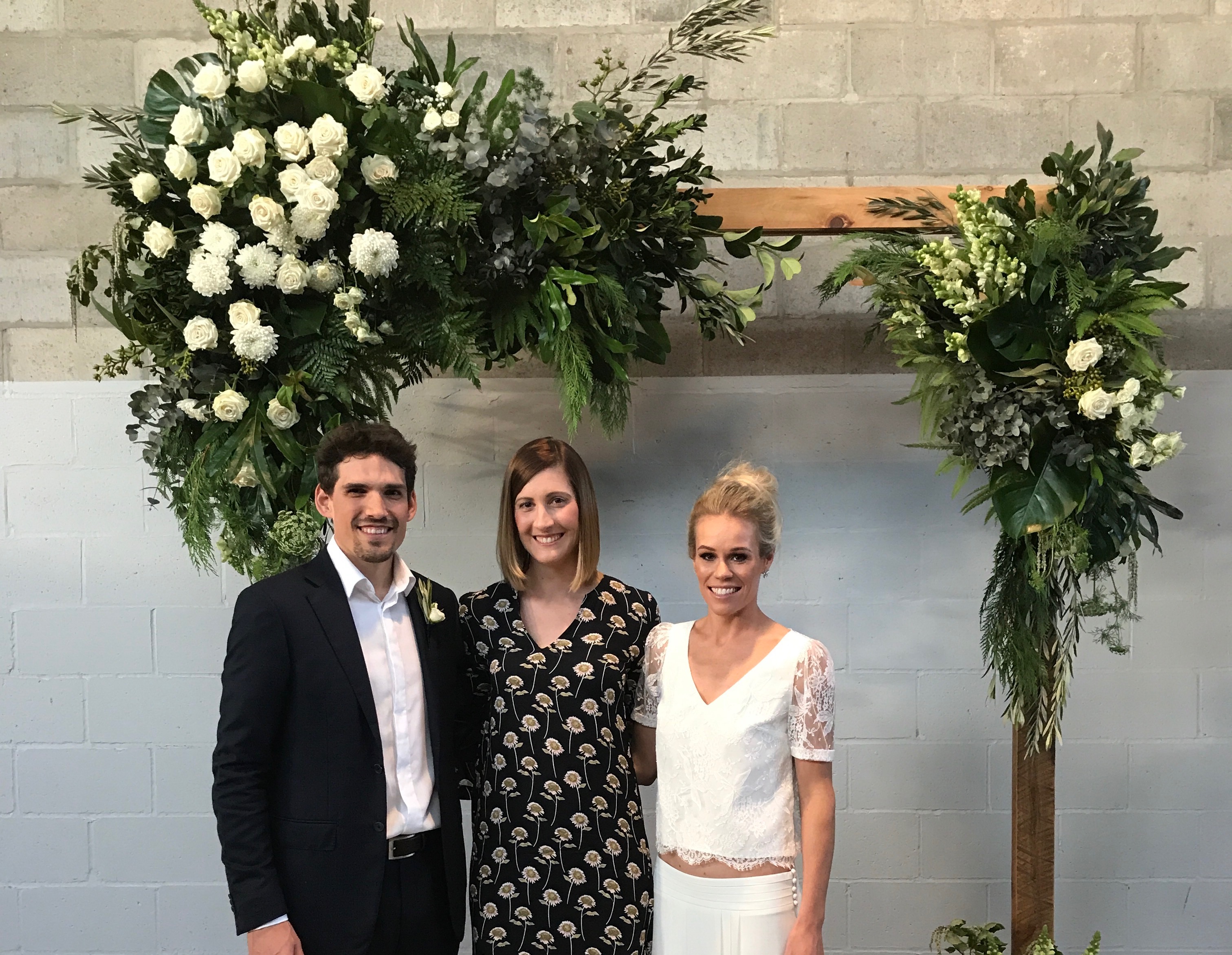 KATE & ROB – married at The Joinery West End
Carly married us on Sunday and we cannot even find the words to say how wonderful she was. Authentic, contemporary, organised… she was completely all over it and her delivery was flawless.
On top of that, she's the most beautiful, warm, friendly person. Our ceremony was stunning and all of our guests commented on how amazing our celebrant was. You will not find a better one.
Thank you Carly for creating the most beautiful memories for us on our wedding day x
Photo taken by a guest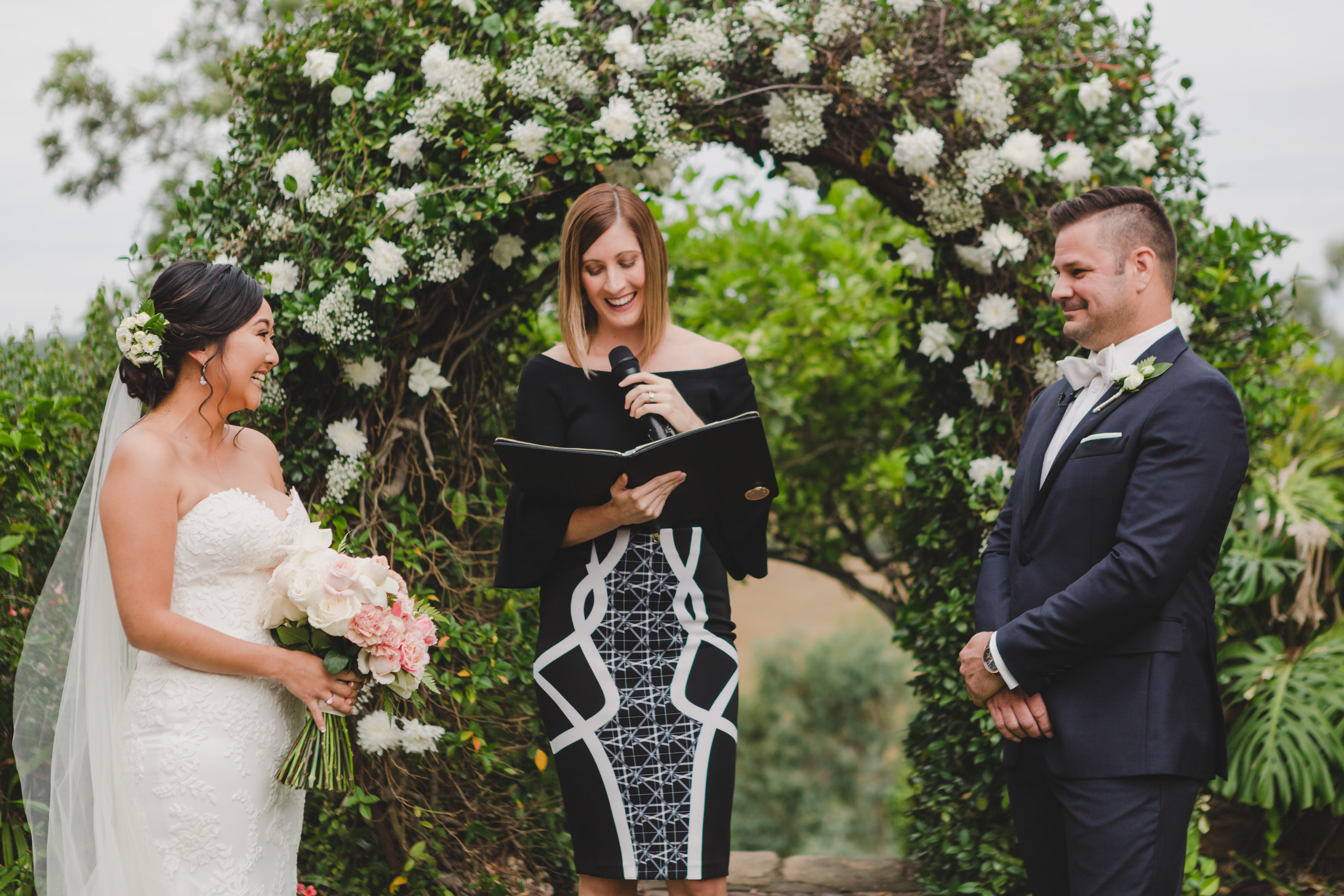 ITSUMI & GARETH – married at Spicers Hidden Vale
Carly is amazing! I never realised how important a good celebrant is on your wedding day, until I met Carly.
She is organised, prompt, beautiful and kind. She made our wedding so special by personalising it with our love story.
All of our guests commented on how amazing she was and we are so very thankful for everything Carly has done for us to make our day the best ever!
Photography Credit Just for Love Photography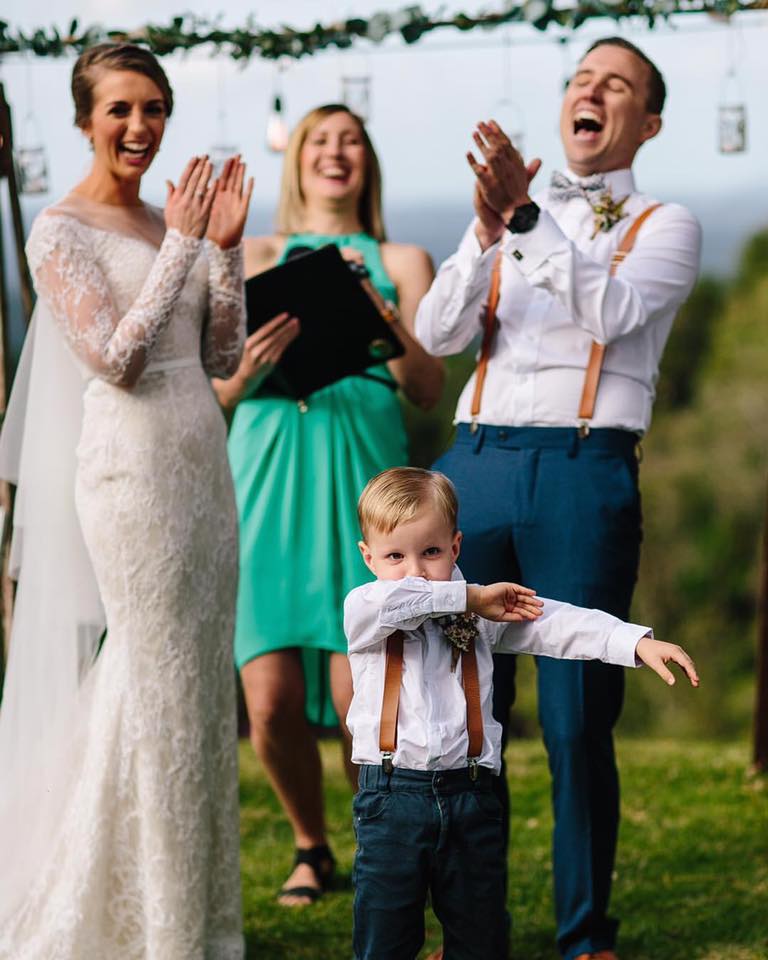 CARLY & AARON – married at Maleny Manor
Carly, Aaron and I are still on a high from our wedding and we can't thank you enough for everything you did in the lead up and on the day to make it so special.
Of all of the amazing elements of the day, you definitely left the biggest impression with our guests (and us!). We have had so many people ask about you and how we found you.
You will come highly recommended to any of our friends who are lucky enough to be starting the amazing journey of getting hitched. Thank you again and good luck with everything in the future.
Mr and Mrs Duncan x
Photography Credit Prue Franzmann Photography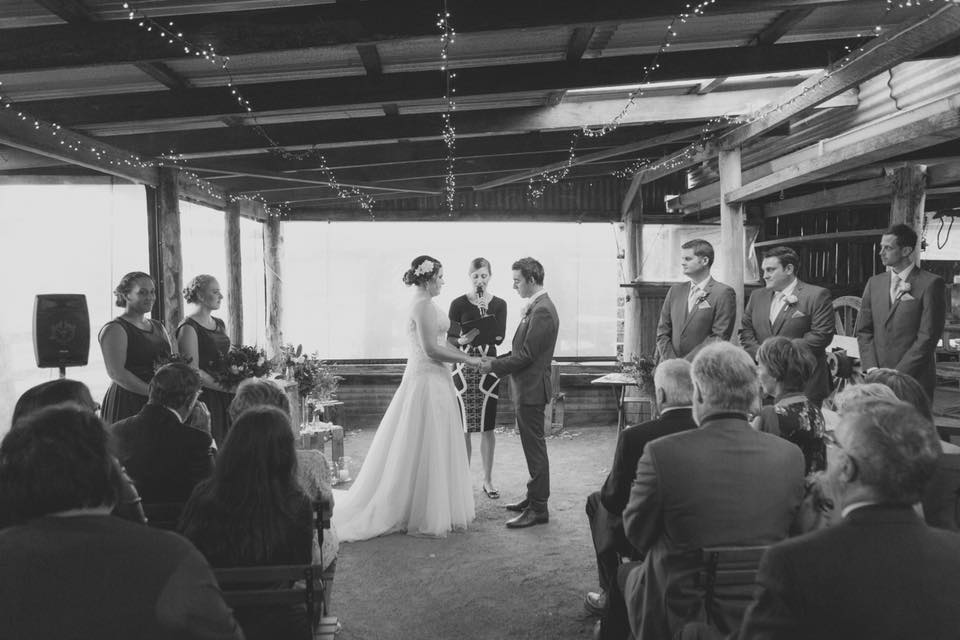 SONIA + NICK – married at Yandina Station
We first meet Carly 7 months before our wedding on a very wet & rainy day and we also got married on a wet and rainy day. Despite this Carly was so friendly, professional and put us both at ease from minute one.
Carly kept in regular contact in the months leading up to our wedding day and always offered help and answered all of our questions. She tailored the ceremony to our story and to hear it read out in front of all our friends and family on the day was an amazing feeling, she has a real talent.

Carly even added in some personal messages that both of us had written for each other and not heard until the day. We also wrote our own vows and she did a great job helping us with these too.
Carly took care of all the details and paper work involved in getting married, everything was sorted for us.
Our wedding day couldn't have been more perfect, our guests had such great time and they couldn't stop talking about our ceremony. Carly's delivery of our ceremony was so lovely, she speaks with such confidence and affection. It was perfect!!
We feel very lucky to have found Carly and we recommend her to anyone wanting a personal ceremony with traditional parts that are relatable to you and today's life.
Carly thank you so much for making our day so memorable, you are a beautiful person and fantastic at your job.
Much love Sonia & Nick. X
Photography Credit Urban Earth Photography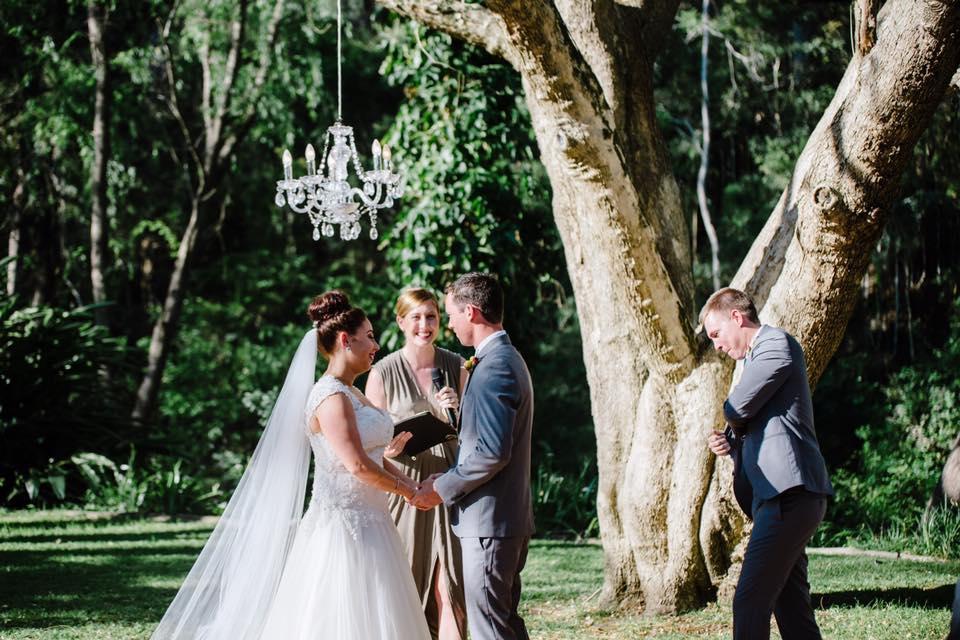 JANE + CALLUM – married at Bundaleer Rainforest Gardens
We just wanted to thank you so very much from the bottom of our hearts.
Having you apart of our wedding as our celebrant was one of the best things about our day.
From the very beginning you made us feel so comfortable and made every step stress free. You didn't mind answering all of our questions no matter how small, you were so patient with us.
Our ceremony was everything we wanted, you made it personal and I loved that every person was so engaged with the ceremony and you even got my parents emotional!
You are so well spoken and well presented and have a way of making everyone want to listen. You can tell you love what you do and we are so privileged to have had you marry us!!
Photography Credit Pineapple Images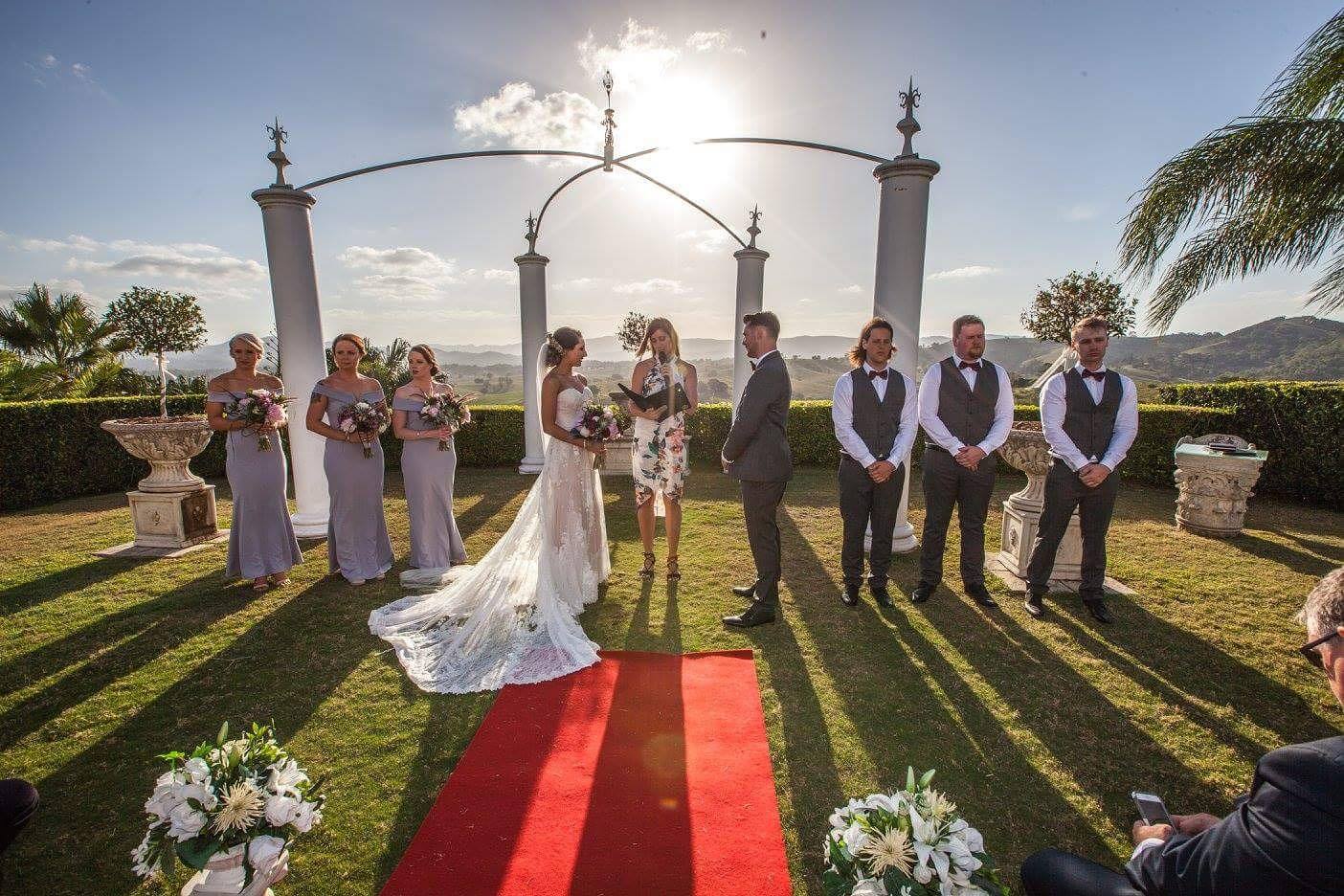 MILAELA + MITCH married at Glengariff Historic Estate
Ahhhh we will never be able to thank you enough! Both Mitch and I were blown away by how amazing our ceremony was. It was everything we hoped it would be and so much more and it's all because of you!!!
We will be recommending you to everyone!
Thankyou….thankyou….thankyou!!
Photography Credit MJL Photography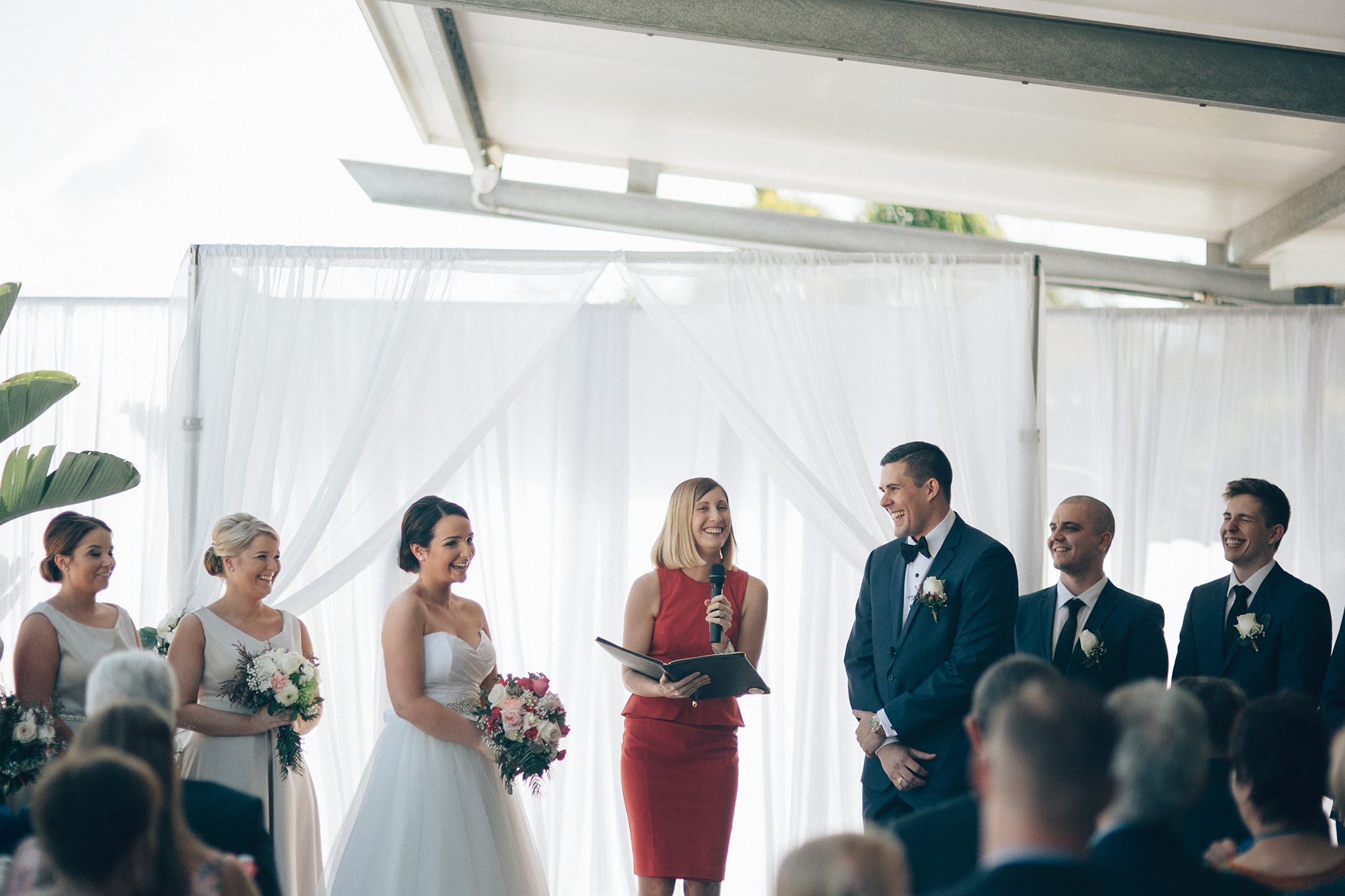 LAUREN + JOSH – married at Victoria Park
From the get-go we just knew that Carly would be the perfect person to be our celebrant. She's so lovely, calming and very well organised.
Carly personalised our ceremony to tell our story and it couldn't have been more perfect – relaxed, natural and personal!
The entire process was painless, Carly was always quick to respond to any questions we had and we were never once worried about how our ceremony would go.
Our guests loved her, we loved her and we wouldn't hesitate to recommend her to everyone.
Photography Credit Richard Grainger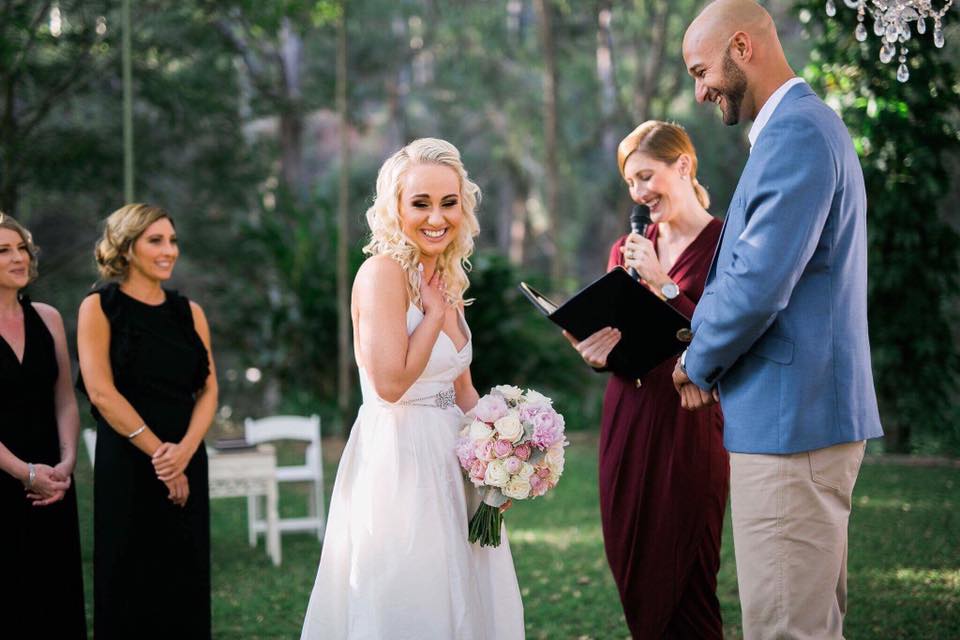 TANIKA + RICKY – married at Bundaleer Rainforest Gardens
I don't even know where to start!
By far the best experience I could have wished for.
I didn't have a clue what I was supposed to do, but Carly made everything a BREEZE from paperwork to templates to helping my groom write his vows (thank god!).
Carly was super professional and organised but also made our wedding ceremony everything we could have hoped for in our own way.  Absolutely wouldn't look any further then Carly! AHHHHMAZING
Photography Credit Tennille Fink Photography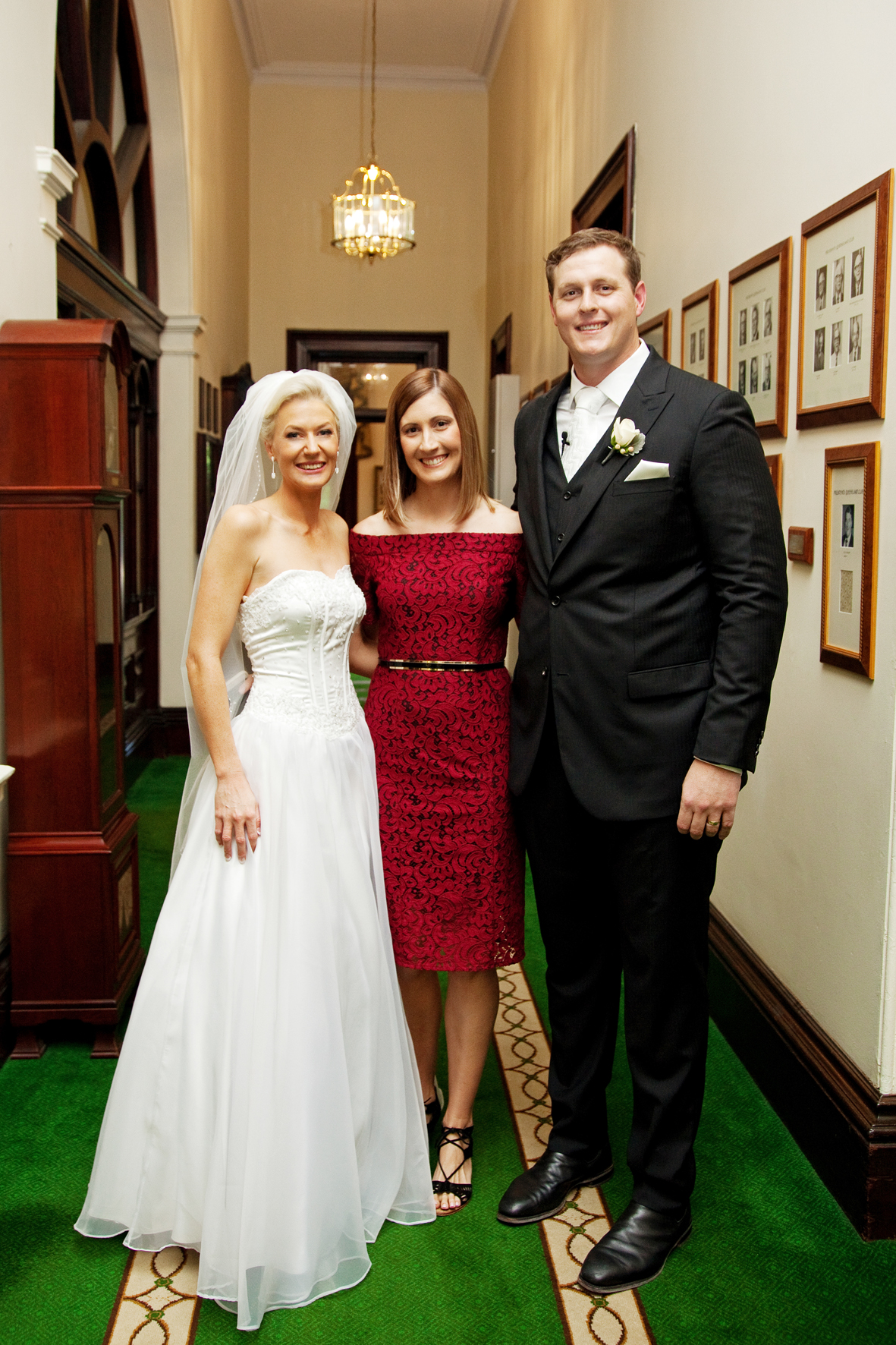 JULIA + ALISTER married at The Queensland Club
Carly was our celebrant on Friday. Through the whole process she has been incredibly professional, helpful and a rock for both myself and my now husband.
When it came to our day she was extremely well presented so our photos look incredible, extremely well spoken and conducted an amazing ceremony for us.
We were both very nervous on the day and Carly was very humble and able to calm us and capture our guests attention for the whole ceremony.
I would highly recommend Carly to anyone who is looking for a celebrant that has a lot of knowledge and experience, is very accommodating and listens to what you want for your special day.
Thanks Carly we are so lucky to have found you!! Xxx
Photography Credit Wet Paint Photography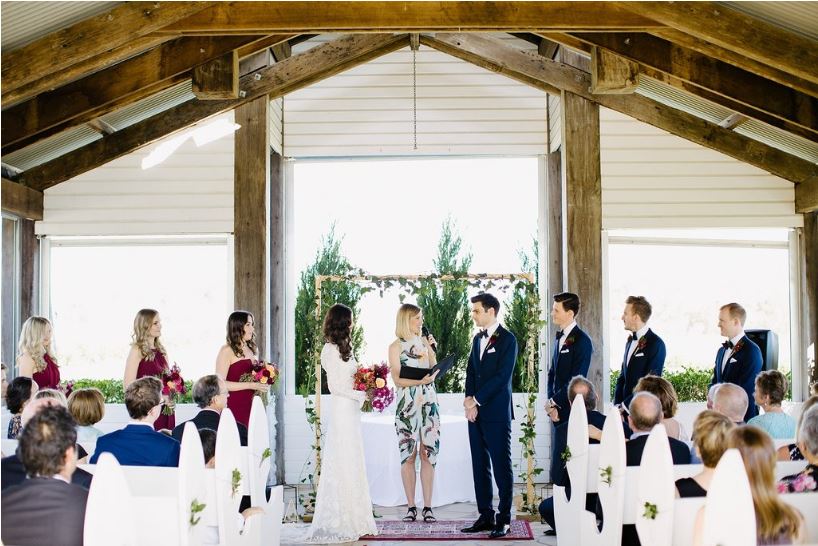 KATHERINE + JARED married at Sirromet
As soon as we had our first coffee meeting with Carly we knew she was the perfect Celebrant for us. Her kind and warm nature made planning our ceremony a breeze and she recommended so many lovely touches that made the day so special.
She delivered our wedding ceremony so professionally and personally as if she was an old friend from 20 years. We cannot recommend her highly enough for other couples looking for a young, friendly and confident Marriage Celebrant.
Photography Credit Heart & Colour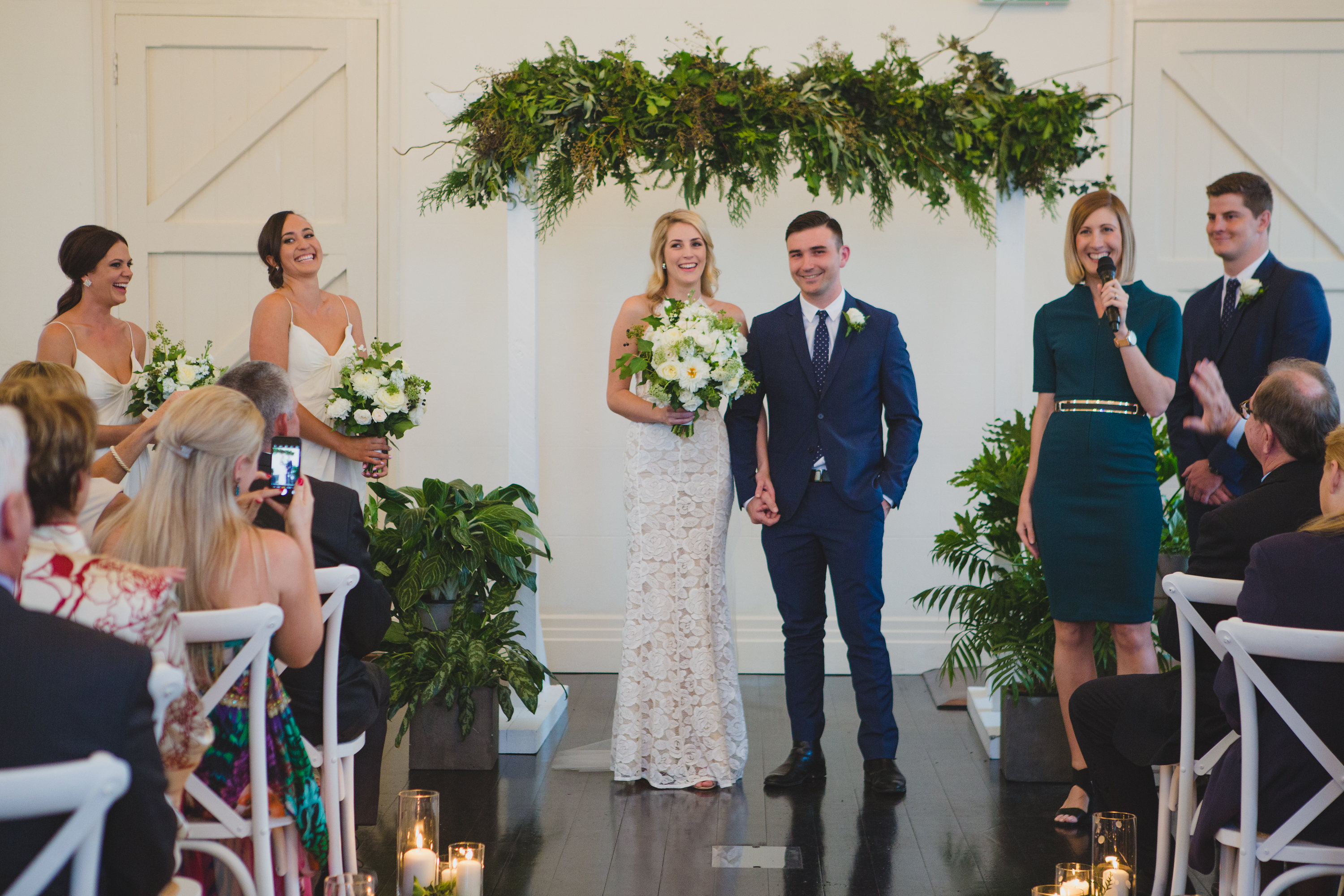 EMMA + SEAN married at High Church Brisbane
Sean and I can't speak highly enough of Carly, she is an amazing wedding celebrant and we were so lucky to have her.
Our ceremony was so loving and personable and all our family and friends commented on this. Carly makes everything so easy, from our first meeting she knew exactly what we wanted and took care of all the little details we wouldn't have thought about.
She made us both feel comfortable and completely at ease on our wedding day.
Thank you so much Carly, we were so lucky to have you.
Photography Credit Just for Love Photography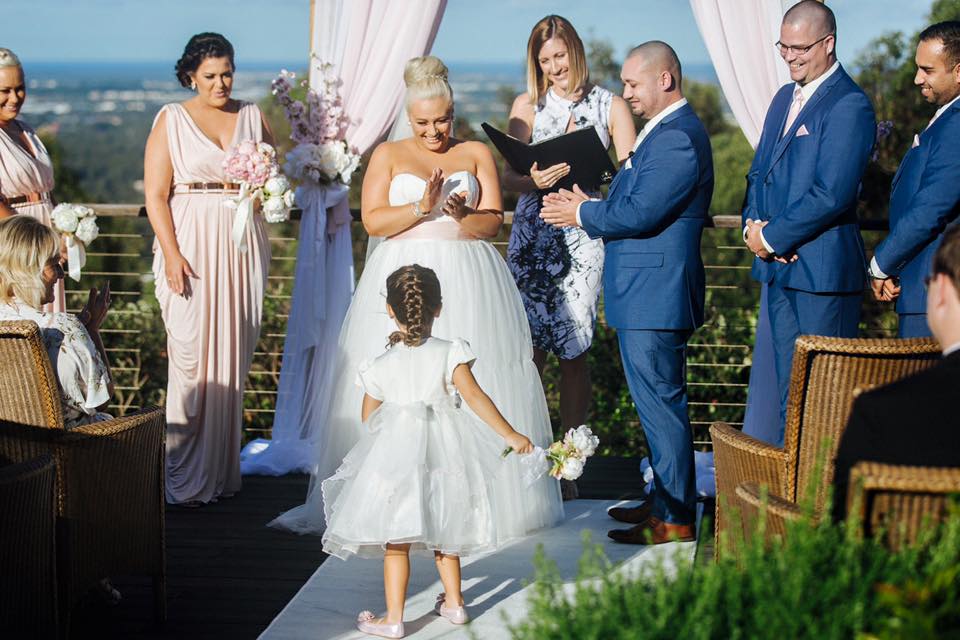 ZOE + DAN married at Peppers Ruffles Lodge & Spa
Carly, Dan and I can't thank you enough for your efforts and for making our ceremony individual and 'us' which is exactly what we wanted.
You were the perfect fit for us, and our day would not have been the same with anyone else.
Thank you for supporting Dan with prompts etc as he was more nervous than I was!!
Thank you again for everything and I will most definitely be sharing our experience with others who are in the planning process.
Photography Credit Playback Studios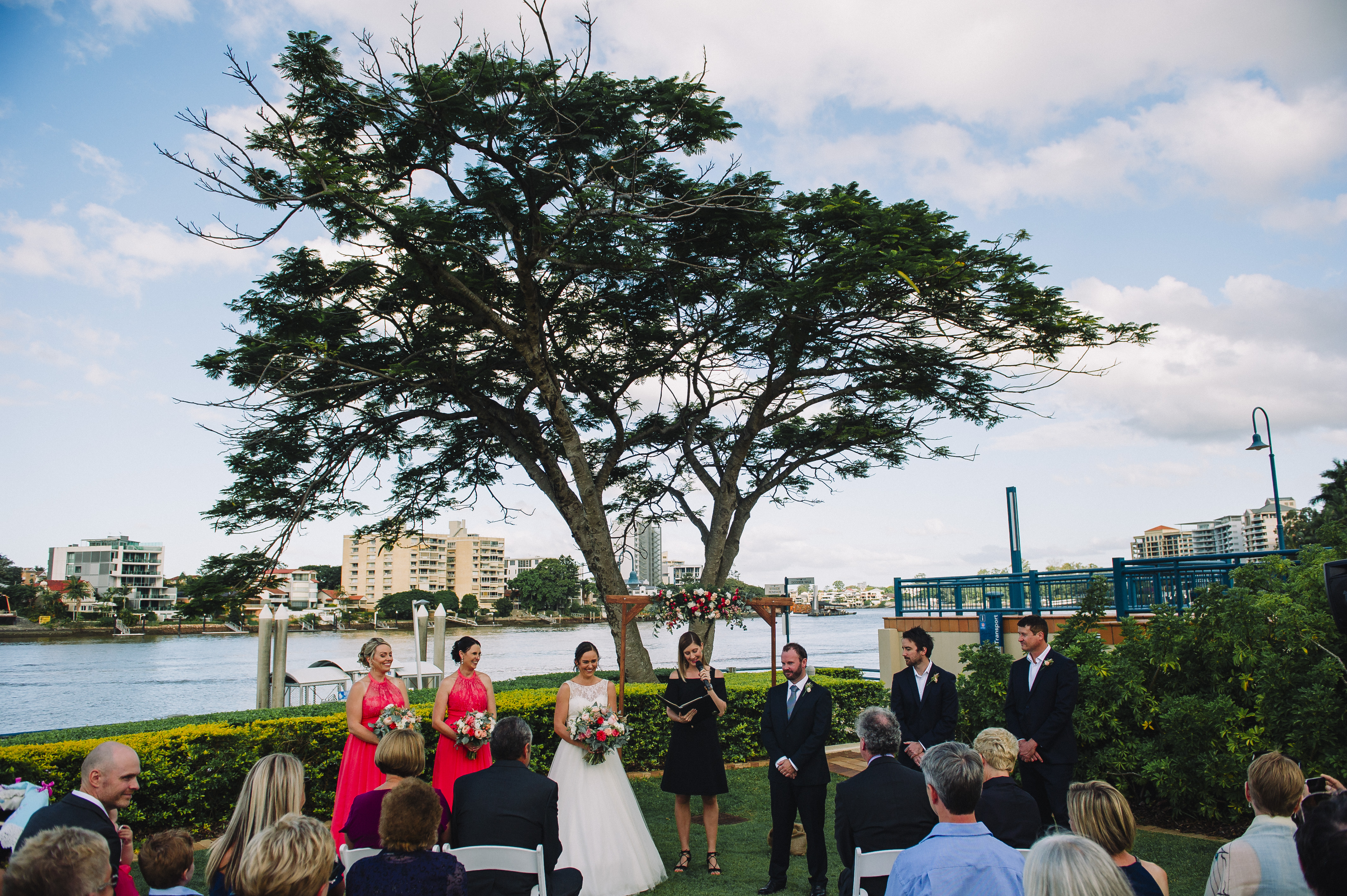 ASHLEE + LEWIS married at The Landing at Dockside
Carly, thank you so much for your beautiful ceremony.
From the beginning you picked up the flow of the day that we were looking for, casual, relaxed and with a big emphasis on family and friends.
We had so many people come up and comment afterwards that this was exactly what they took out of our ceremony and our vows – that's all down to you and your wonderfully calming nature and the way you really got to know us.
We cannot thank you enough and wish you and your family all the best.
Photography Credit The Follans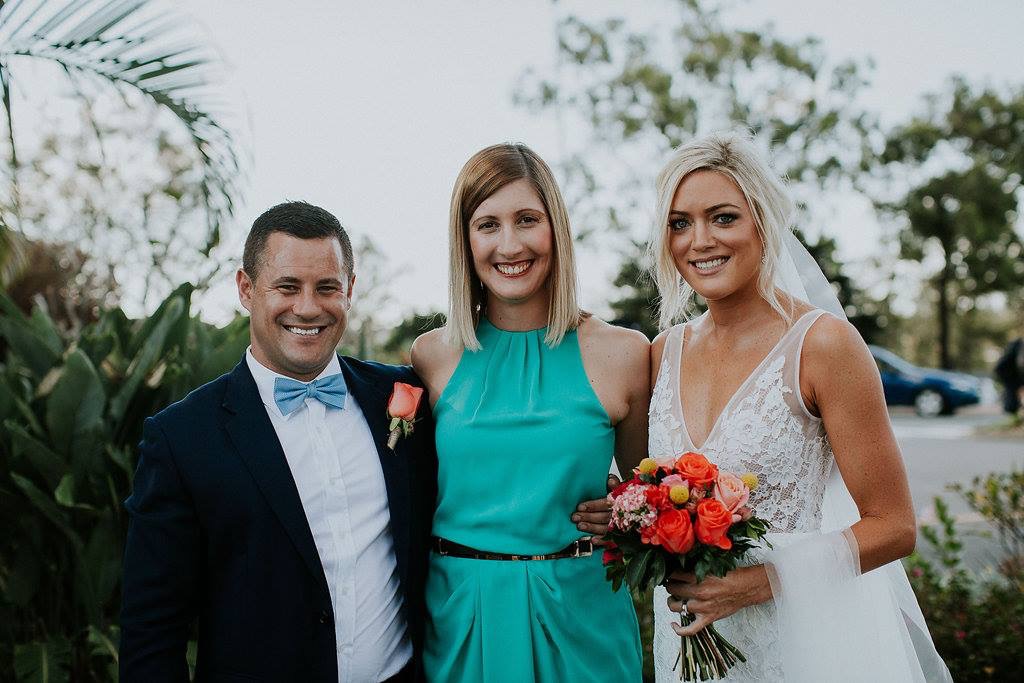 COURTNEY + DYLAN married at Victoria Park Golf Complex
Thank you so much Carly for giving us a perfect ceremony. You made us feel so at ease and were awesome to work with from the very start. We have had heaps of amazing comments on our ceremony and the guests really loved how personal you made it. I am so glad we found you!! Xx
Photography Credit Ryder Evans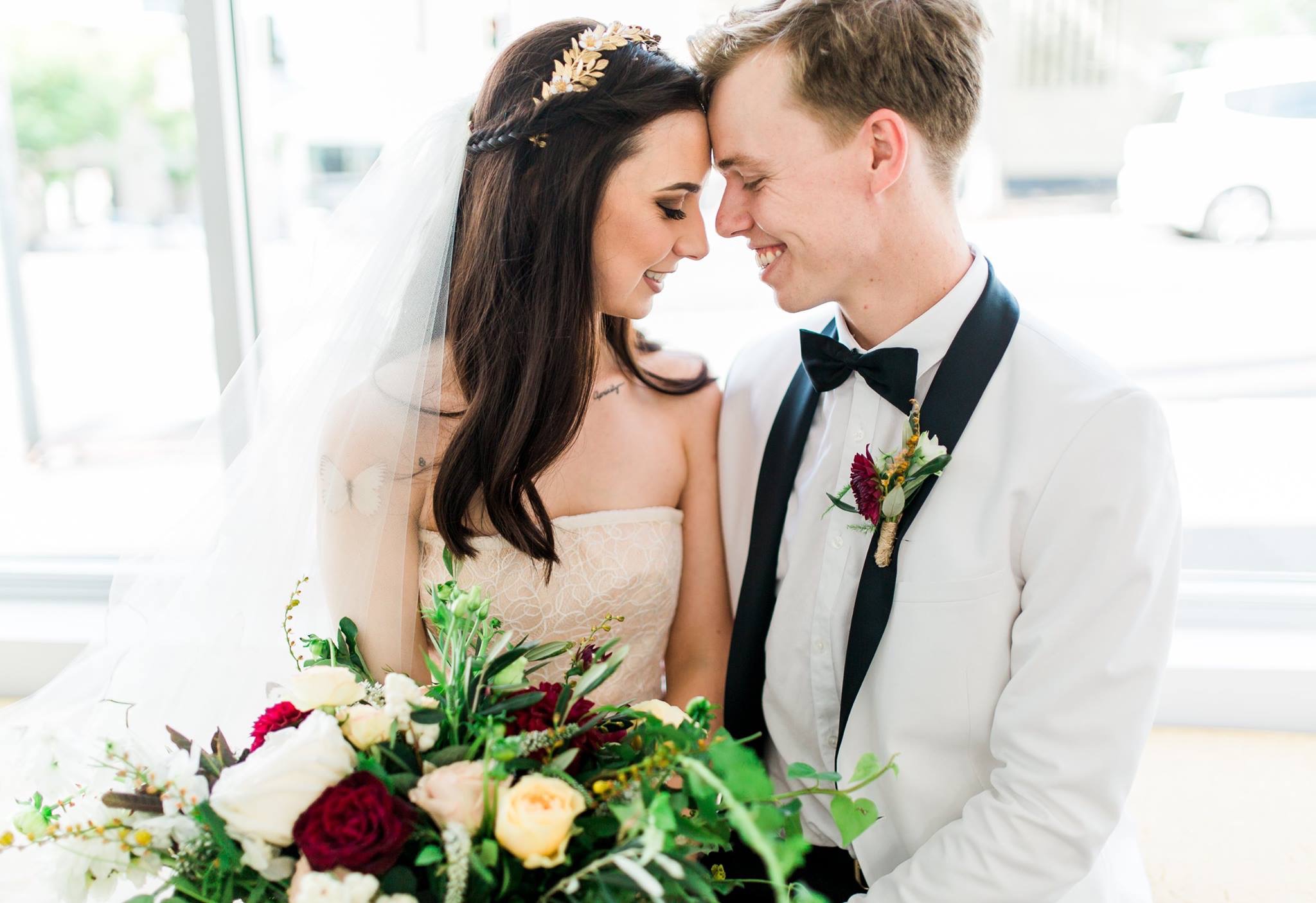 MIA + JESSIE married at High Church Brisbane
Carly! What can we say! You were a delight.
You made everything so easy leading up to the day, you read us like books and knew exactly what type of people we were and how to ease our anxieties.
The whole ceremony was stunning, so unique to us and it wouldn't have been as beautiful if it weren't for your help!
Mia and Jesse! Xo
Photography Credit Anchor & Heart
RENEE + TOM married at Victoria Park Golf Complex
Carly is AMAZING!
From our first initial contact Carly went above and beyond to make our day special. Our ceremony was so personalised and completely different to any wedding we had ever been too!
Carly had a way of including our nearest and dearest into the ceremony for us.
Everyone commented on what a FABLOUS job you did! Thank you for making our day so special and amazing – Renee and Tom Taplin.
Photography Credit Wendy B Photography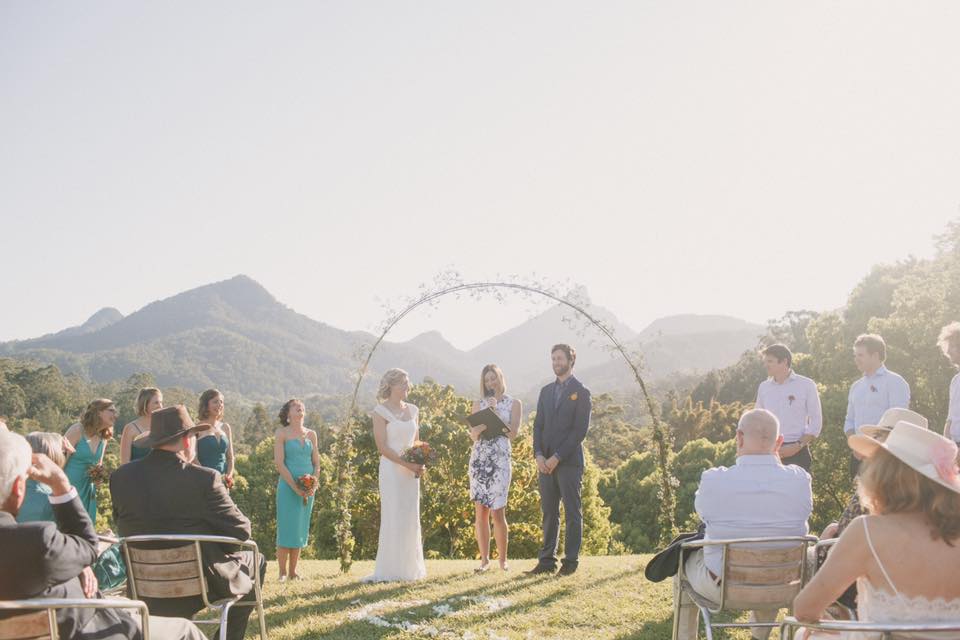 CLAUDIA + WILL married at Mavis' Kitchen
Will and I can't thank-you enough for your help with our big day.
Both of us were blown away with the amount of effort you put into making the ceremony personal and special for us. We really appreciated all the extra little details and tips that you gave us to make it as smooth sailing as possible. We really loved the style of our ceremony and a lot of people commented on how much they enjoyed it too.
We feel so fortunate that we found you to do our ceremony, you really are perfect for the job.
Photo taken by wedding guest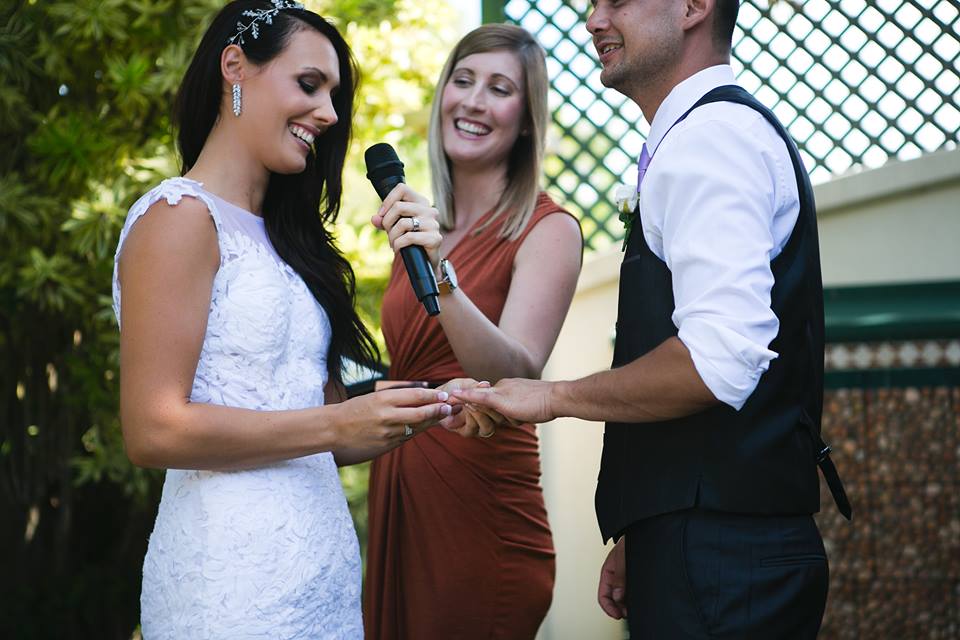 JULIA + DAN – married in Redcliffe
Carly, we cannot thank you enough for everything.
From the second we booked you, you have gone above and beyond to make sure our ceremony was everything we hoped for and more – and it was!
It was honestly the most perfect day of our lives and we owe that all to you and your incredible professionalism, attention to detail and naturally warm and kind personality.
We clicked with you instantly at the first meeting and knew you were perfect for us. Both Dan and I were completely clueless about weddings and how they should run, you guided us through everything, made sure we were happy and comfortable with everything that was planned for us.
Planning a ceremony while Dan was overseas for work and difficult to contact at times was far from easy but with your amazing patience and guidance we just breezed through it!
You listened to absolutely everything we wanted, even though we changed our mind countless times!! And on the big day you kept me calm the whole time, everything ran so smoothly and all our guests commented to us afterwards how professional you were and how it was such a beautiful ceremony.
I will definitely be recommending you to any of our friends who might be getting married in the future, I cannot speak more highly of you! Thank you a million times over once again,
Julia & Dan.
Photography Credit The RHP Project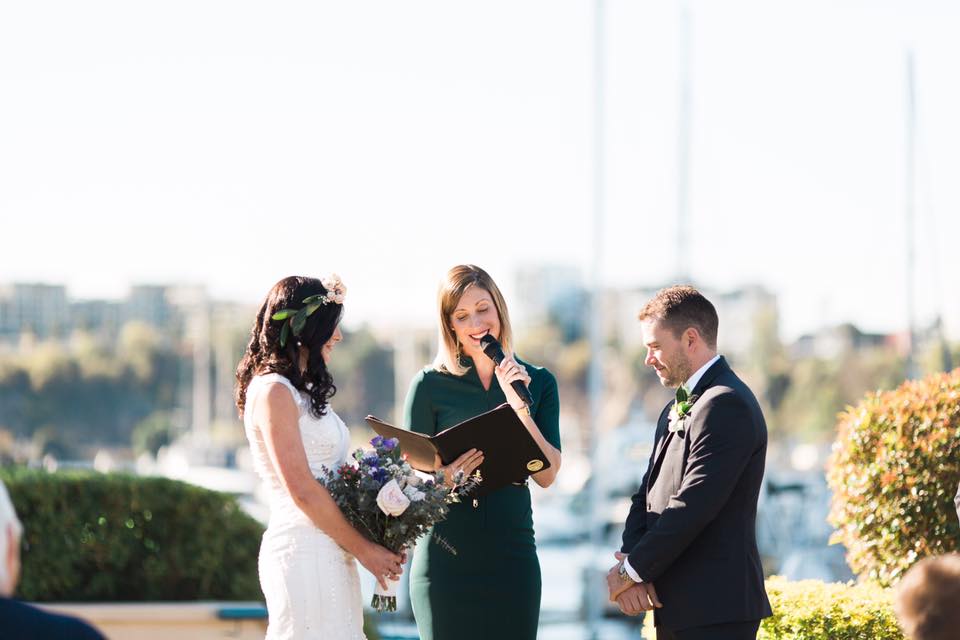 KELLY & STEVE – married at The Landing at Dockside
Omg! Wow!
Carly just made our day. Our ceremony was everything we had hoped for, from beginning to end Carly was just amazing and easy to work with.
Everyone at our wedding were just amazed at how Carly had everyone involved and there was not a dry eye in the ceremony. So much that friends wanted to book her for their wedding.
We had the best day, thank you Carly for your beautiful kind personality. You are amazing. We are so happy with how you made our day perfect. Xx
Photography Credit Tim Harris Photography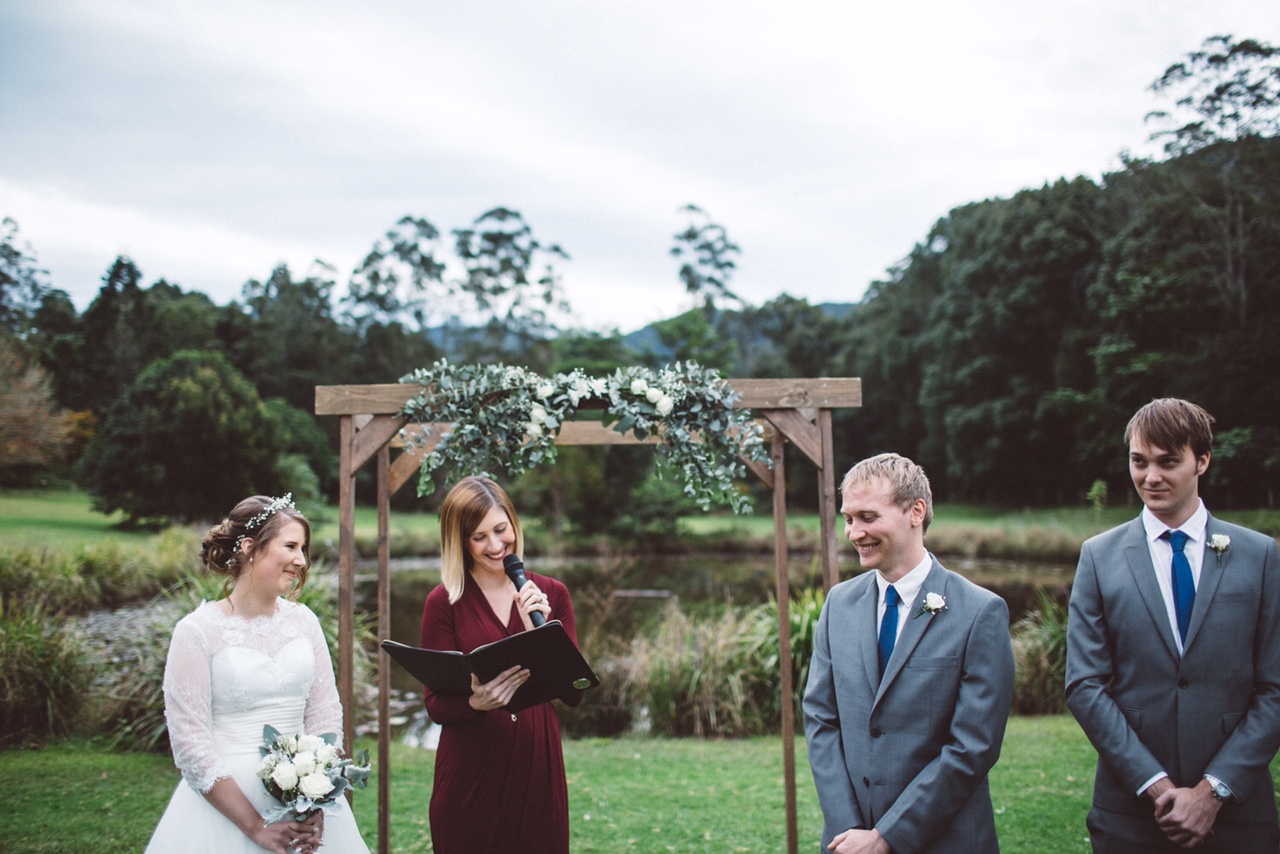 LEIGH + LACHLAN married at Mavis's Kitchen, Uki
We cannot speak of Carly highly enough. So many people at the wedding came up to us and commented on how amazing, thoughtful and professional Carly was. She kept us in the loop about every detail leading up to the ceremony, so when the big day came around, we were confident we knew exactly how it would run (as we didn't opt for a rehearsal), and it was perfect! Carly crafted an extremely personal ceremony which reflected our personalities experiences together and even included our guests!
Thank you so much Carly for helping make our day perfect!
Photography Credit Carly Brown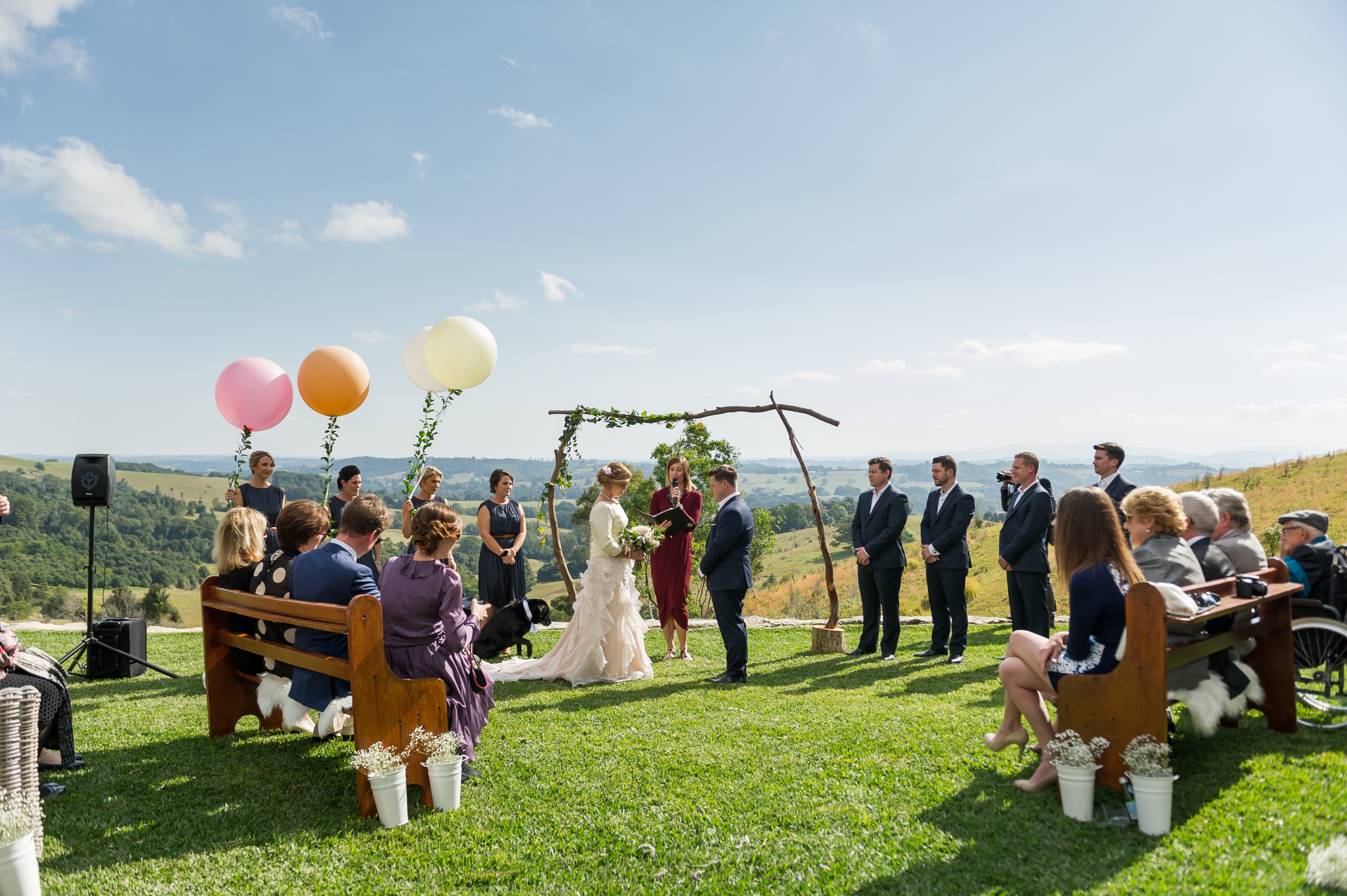 JESSIE & PETE – married on a private property in Bangalow
Carly, we could not have asked for a better person to make our love official!!!!!!!!!
We were so happy to have that extra special connection with you and loved every minute of our wedding day.
Thank you from the bottom of our hearts xxooxx
Photography Credit Leigh Warner Photography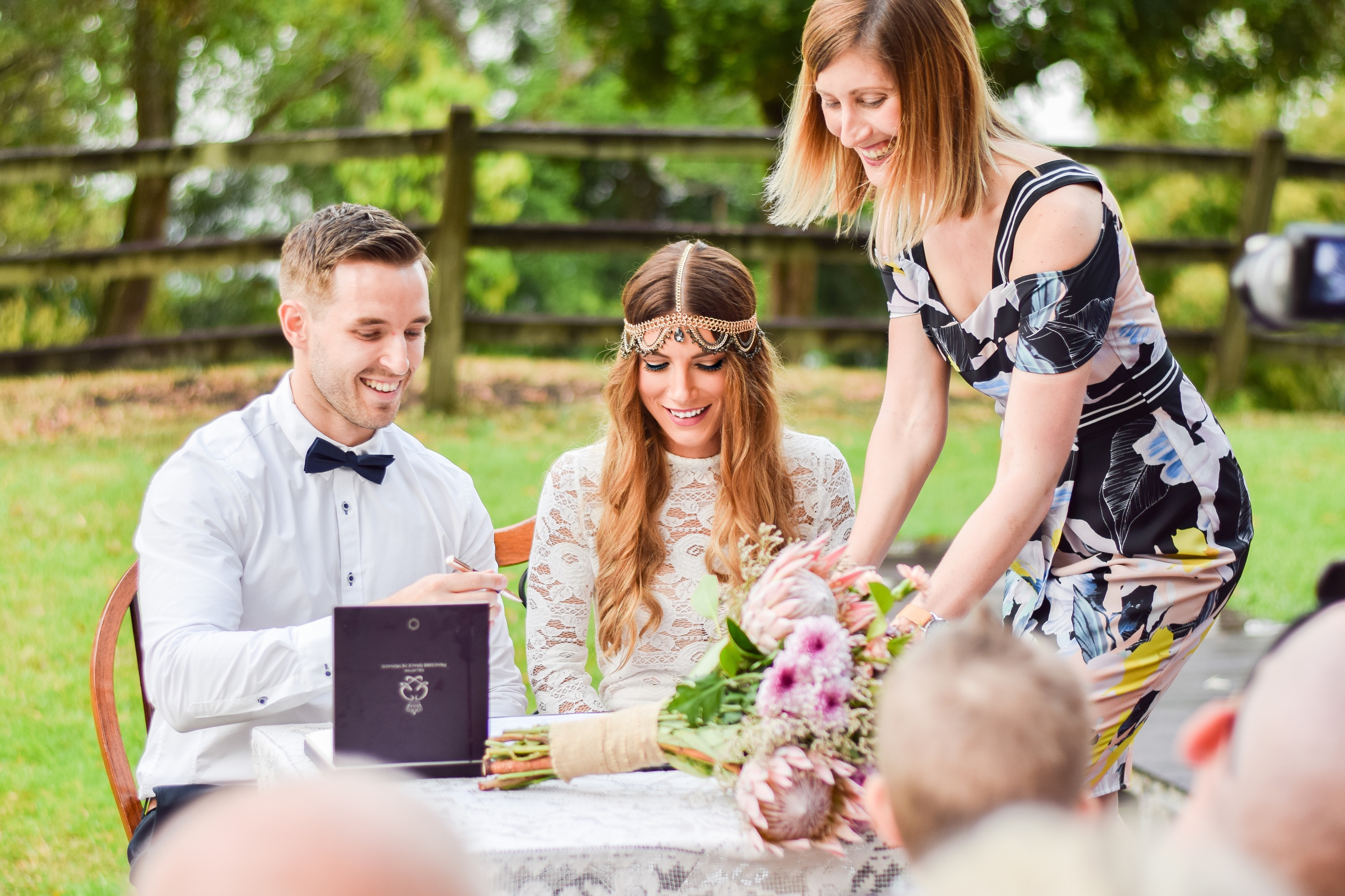 AMANDA & TOM – married at The Halfmoon Hideaway, Maleny
Carly, thank you so much for being a part of our big day! You made our ceremony so intimate and beautiful. We are just so grateful and blessed that the day turned out so well and we can't thank you enough!! 
We will definitely make sure to refer you to all of our friends and we wish you all the success in the world for the future.
Lots of love Amanda & Tom x
Photo taken by a wedding guest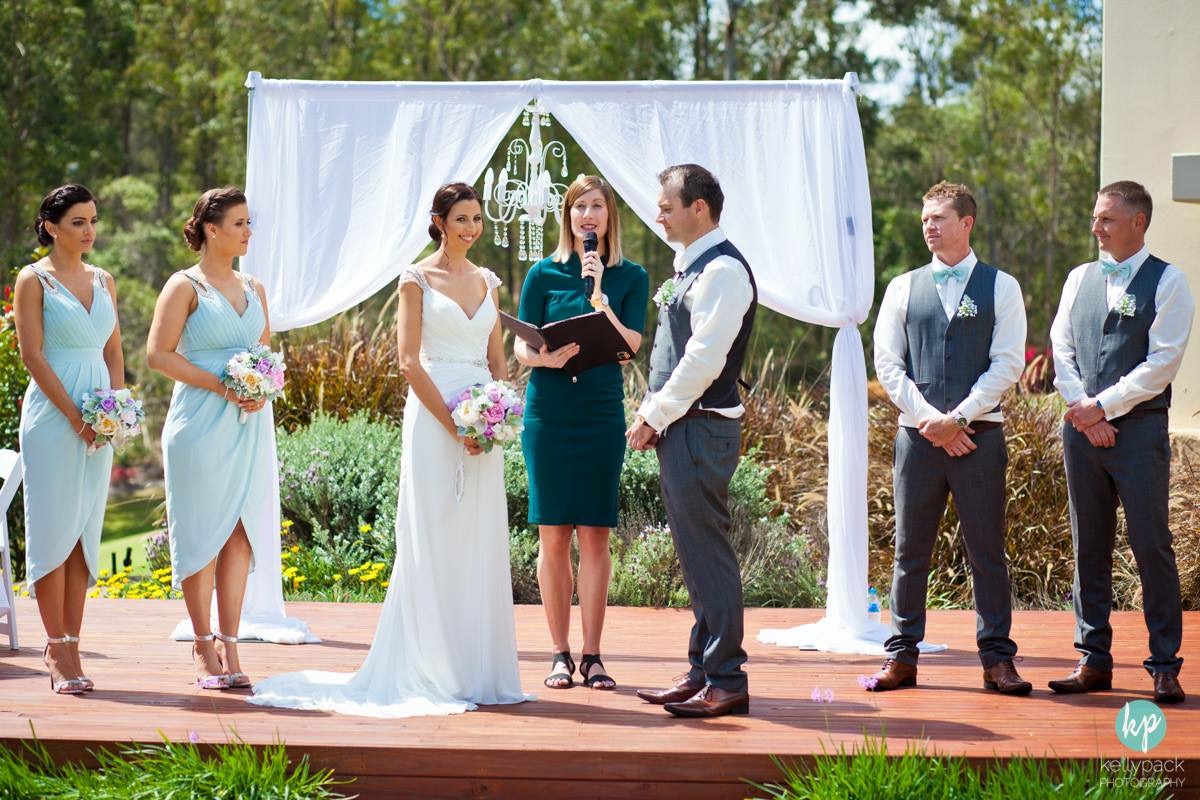 KIMBERLEE + CHRIS married at The Brookwater Golf & Country Club
THANK YOU so much for such a beautiful wedding ceremony!
From the moment we met you we knew straight away that you were the one for us – you were so well presented, kind, and made us feel so comfortable!
Through the months of planning, you were so professional and always kept us updated on how you were travelling with preparing our ceremony- asking lots of questions to make the our special day even more special!
Everyone commented on you and how well you did! So thank you from the bottom of our hearts
Love Kimberlee and Chris x
Photography Credit Kelly Pack Photography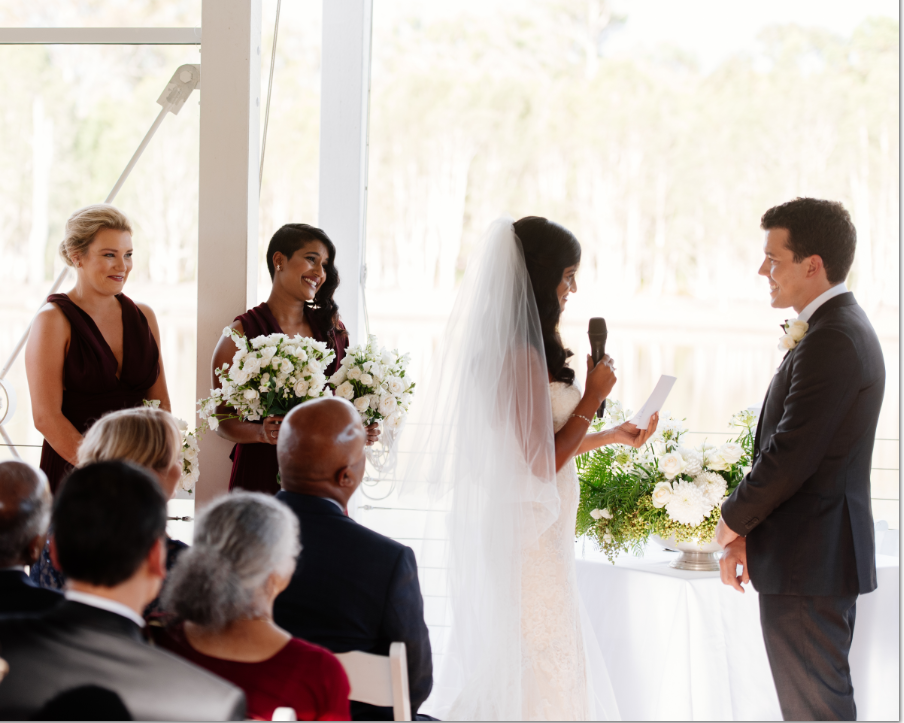 SARAH & BRENDON – married at Sirromet
We met with one celebrant and one celebrant only because as soon as we met Carly, we knew she would be perfect for our wedding.
Carly is so warm, friendly and really loves doing what she does! She worked with us to personalise the ceremony and incorporate the things we really wanted.
Carly was so easy to work with, extremely professional and super thorough which gave us comfort that she had it all covered. We had so many guests comment on how well she conducted the ceremony so seamlessly.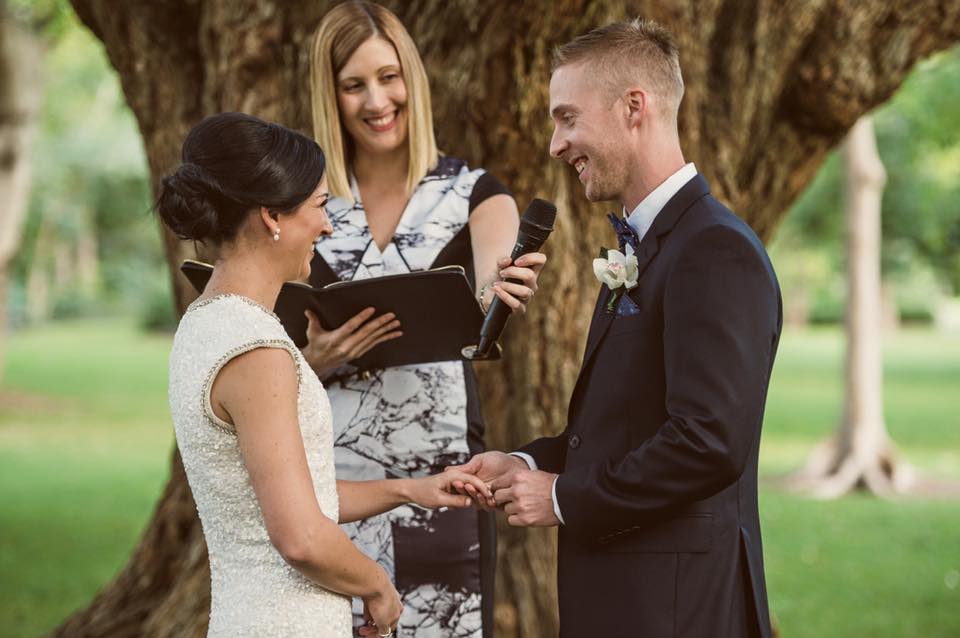 NAOMI + DOM married in the Brisbane City Botanic Gardens
We loved our wedding ceremony!  It was all that we hoped it would be, relaxed and personal filled with love, laughs and a couple of tears.
We were a bit overwhelmed about planning our ceremony when we first met Carly.  Carly listened to us and provided suggestions to make our ceremony truly unique.  Many guests commented on how much they enjoyed our ceremony, that is was different and "so us".
Carly's constant calm and professionalism reassured us and allowed us to relax and take it all in.
We can't thank, or recommend Carly enough!
Photography Credit Todd Hunter McGaw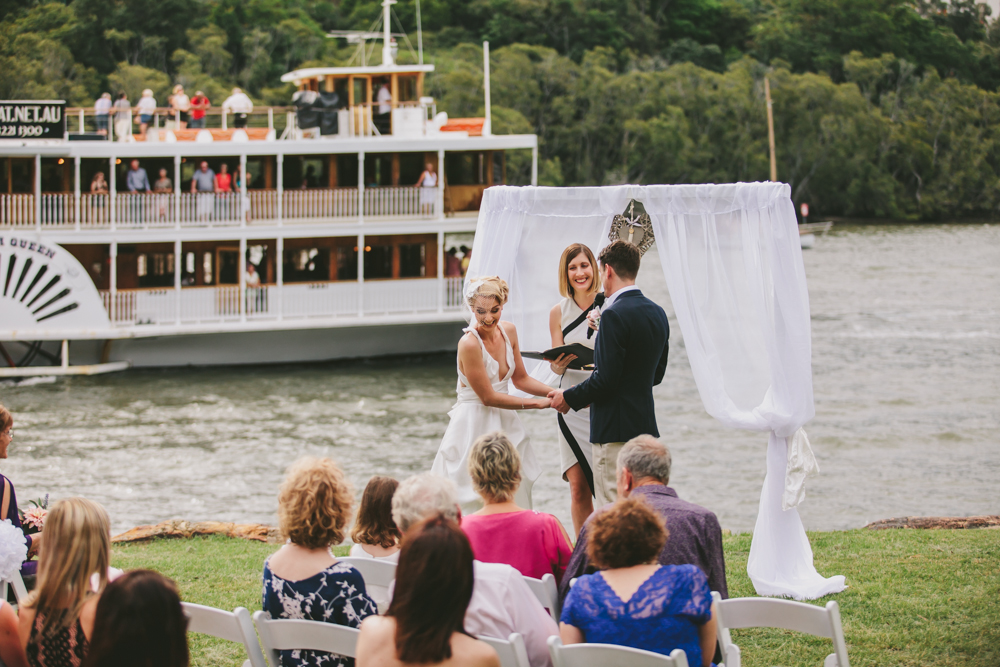 JANESSA + BEAU married at Riverlife Brisbane
From the moment we met Carly, we knew she was the right celebrant for us.  She understood that we wanted a relaxed, non traditional ceremony and really took the time to get who we were as a couple.
Carly was fantastic with answering all of our questions from the lead up to the wedding day and after.  Nothing was ever too much trouble and she was always quick to respond.
On the day, she made both Beau and I feel completely at ease and helped us laugh at all of the things that didn't go to plan, including an impromptu Mumford and Sons concert on the river!
I would recommend Carly to anyone who is after a professional, yet relaxed and fun celebrant.
Thank you again for making our day perfect!
Photography Credit Cookoo Design & Photography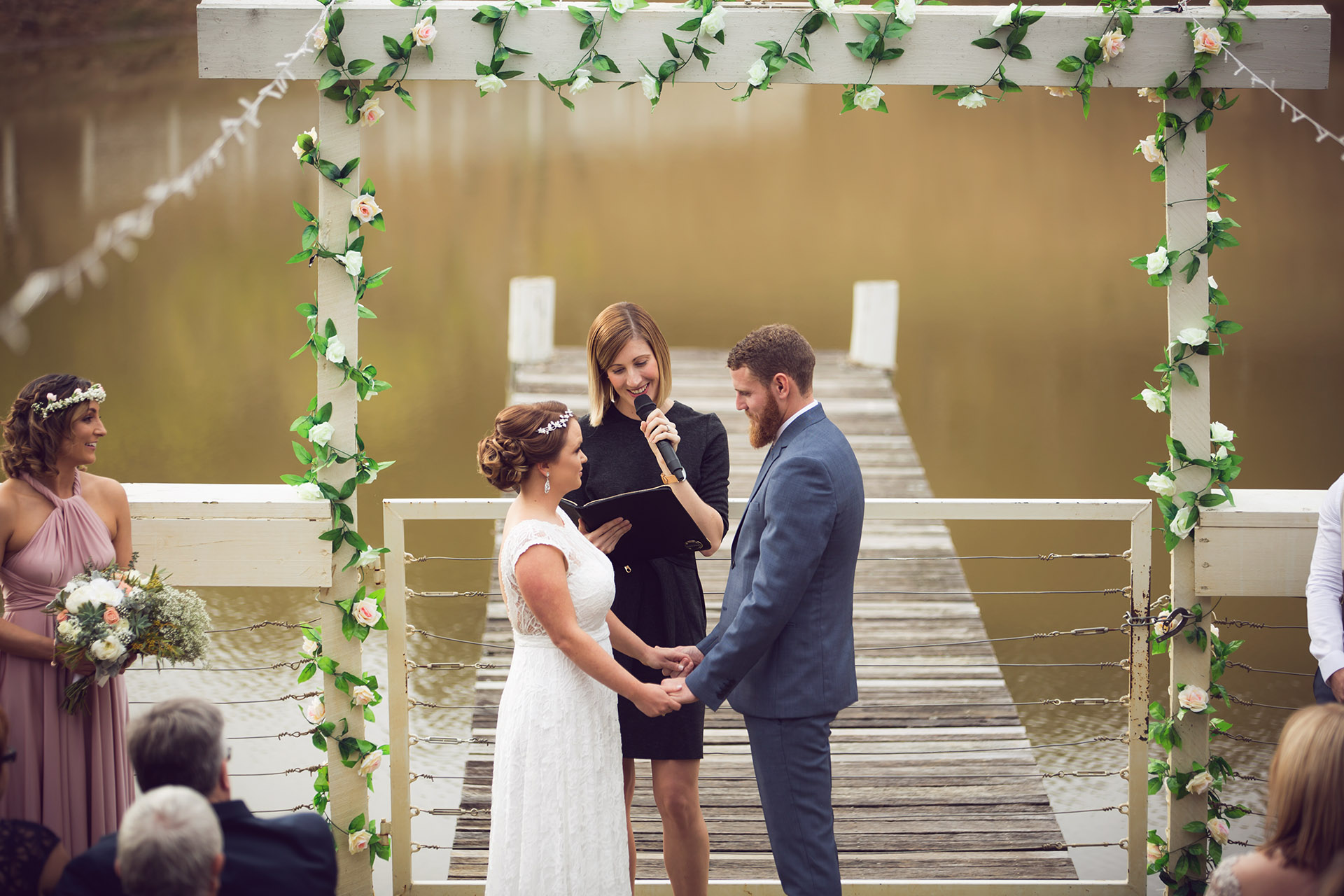 KARISSA + JOSH married at Brannell Homestead
I highly recommend Carly to anyone wanting a trouble free celebrant. Carly was so lovely and very accommodating! She made everything very easy and I highly recommend her services. Thanks for making the ceremony so perfect and for helping us with our vows & just being awesome.
Photography Credit Wedding Love Photography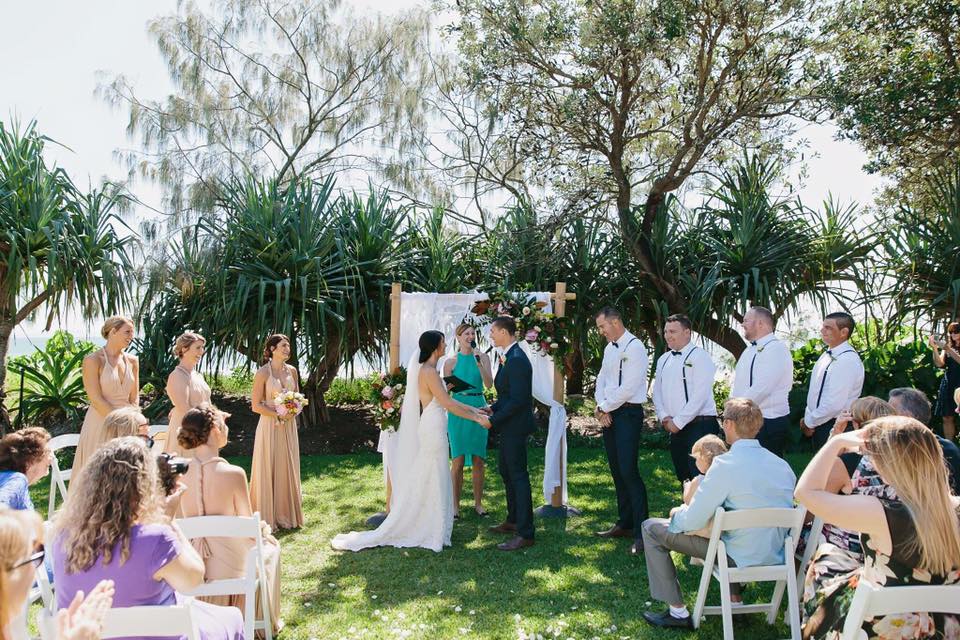 NATALIE + JOSH – married by me in Noosa
Words cannot describe how absolutely perfect Carly made our ceremony! From the moment I spoke to her on the phone, I felt comfortable and knew her personality was just what we were looking for. We were not the only ones to think Carly was fantastic, we even had our guests comment! Enough said!
Photography Credit Shutter and Lace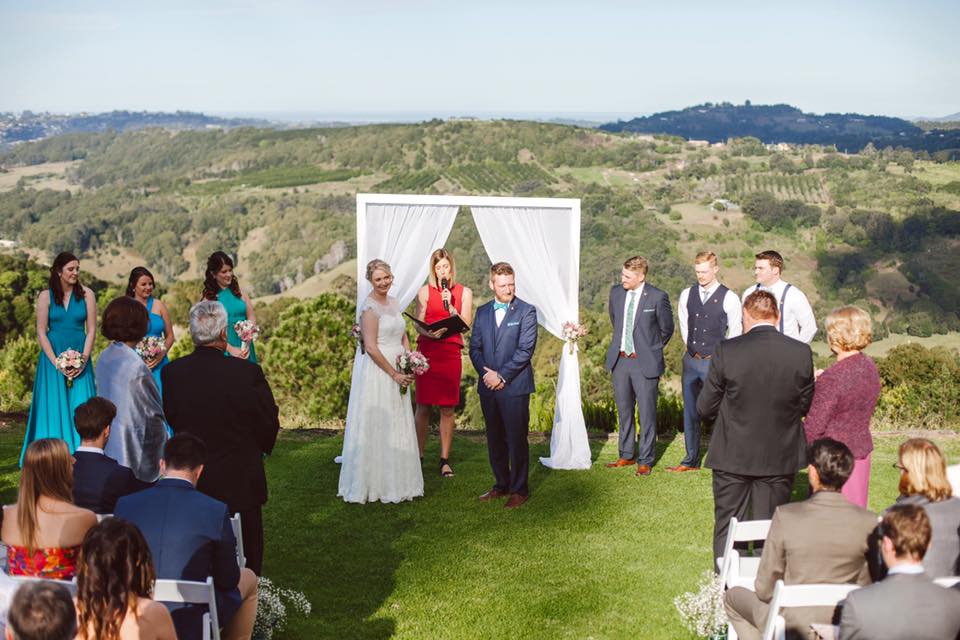 SIOBHAN + PETER – married at Summergrove Estate
Just before Pete and I run away for our honeymoon, we wanted to send a quick email to say thank you so much for everything!
You truly did an amazing job of capturing our personalities for the ceremony and putting us at ease! You are a fabulous celebrant and we couldn't recommend you highly enough! We hope we get to witness some more of your amazing ceremonies in the future!
Photography Credit Bruce Loves Susie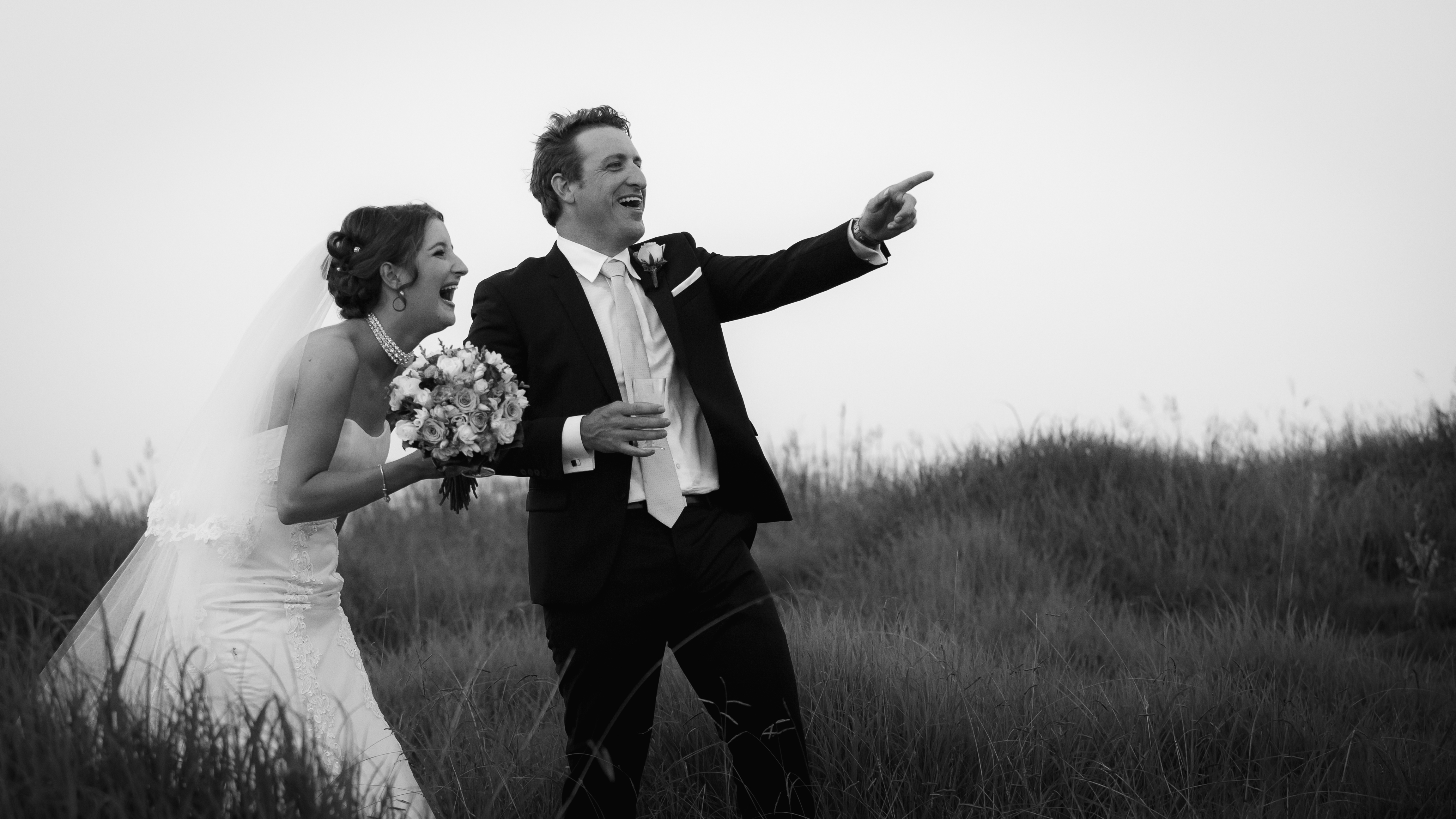 Maryon + Matt – Married at Kooroomba Vineyard & Lavender Farm
We were very fortunate to have Carly Slade as our marriage celebrant. She was absolutely wonderful, and we could not have asked for a more organised, warm, and professional person to help us on our special day!
Carly was incredibly supportive throughout the process, and tailored the ceremony to suit our wishes. She has a refreshingly modern and personal approach, and developed our love story into as beautiful script full of humour and warmth. Carly was always more than happy to answer any questions, and always responded to emails promptly.
On the day she was relaxed yet professional, and conducted the ceremony flawlessly. We also received positive feedback from our guests who thought she was excellent.
We highly recommend Carly to anyone planning a wedding – we could not have been luckier to have such a superb celebrant!
P.S. Matt thinks you should say – "Carly Slade – stepping away from the blue rinse celebrant stereotype!"
Photography Credit Ken Roney